The ongoing COVID-19 pandemic has thrown manufacturers across the nation a major financial curveball. But some have capitalized on this challenging moment, recognizing it as an opportunity to look inward with an eye toward improvement and a sense of urgency.
In recent months, Enterprise Minnesota has worked with a number of these businesses to fine-tune their operations and help them comply with the rigorous quality assurance standards established by the International Organization for Standardization, seizing the moment to move their businesses forward.
Among the companies Enterprise Minnesota Business Growth Consultant Keith Gadacz has counseled as of late on these improvements are: Ritz Machine Works Inc., Next Innovations, and Van Technologies, each of which either completed the ISO process or is on track to complete the process swiftly.
"There's a trend forming that companies want to run their businesses better, and one of those ways is through ISO certification," Gadacz says.
Fellow Enterprise Minnesota Business Growth Consultant David Ahlquist adds, "The companies I'm working with currently started at a downturn in business, so they decided, despite the COVID problem, they're going to forge ahead and use the time to upgrade their systems or invest in quality management systems to build some business."
Several manufacturers are not only doing ISO work, but they're doing it very quickly. A typical ISO project is about a 10-month process: five months for consultants to analyze a manufacturing facility and come up with an action plan, three months using the newly implemented system and two more months for final certification steps. As COVID continues to define the landscape, organizations have redeployed their efforts to shorten the certification time frame to as little as four to six months.
Ritz Machine Works
Ritz Machine Works is pursuing an ISO 9001 certification partly in hopes that it will open doors to some new markets, says Adam Teeter, the company's director of U.S. operations. Known for its tube-bending expertise, the business is based in Dauphin, Manitoba but opened its first U.S. plant in Cambridge, Minnesota in 2018.
As the company has grown, Teeter says it has recognized the need for "a robust organizational structure that works not just for us but for our customers." He noted that ISO certification could provide the company with access to supply more parts for original equipment manufacturers (OEMs).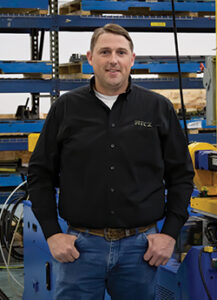 "It's certainly a requirement for a lot of the larger OEMs. We've offered sample product and good pricing. But we've found with a few of the larger OEMs we were unable to get to the next level," Teeter says.
Gadacz says large OEMs' preference for ISO-certified suppliers should come as no surprise. "They want well-run companies, and ISO certification helps improve their confidence in the supplier. So, they ask their supplier to get certified so that they can say, 'Yes. I know you're being checked. I know you care. I know you have good systems in place to support your business.'"
But the ISO certification process is more than just a stamp of approval. It also should help the company boost its overall performance, says Dave De Braga, Ritz's director of business development.
"Enterprise Minnesota is helping us design a quality management system. So, the ISO certification is just a cherry-on-top type deal," he adds.
That's the right view to take, in Gadacz's eyes.
"There are lots of reasons to do it. But the best reason is to become a better business. ISO certification gives you a way to run a better business," he says, noting that the drive to improve should be the top priority.
"The challenge is, sometimes when it's just to get a stamp of approval, the internal drive to improve isn't there or it may be woefully missing because it's just to get a certificate — a stamp," Gadacz says.
Ritz employs 65 people company-wide, including 14 in Cambridge. The company is privately held and doesn't disclose many financial details, but Teeter offers a bit of guidance, saying its annual sales total between $10 million and $20 million. Moreover, the business had enjoyed consistent growth until the pandemic struck.
"We were anticipating a pretty rapid and aggressive 2020 in early January and February. But when the COVID situation hit, we found ourselves falling behind those expectations and customers shutting down for a month or two at a time. So, we kind of took that opportunity to advance our ISO plans," Teeter says.
Ritz is moving swiftly. It started working toward certification in August and aims to complete the process in January 2021. If Ritz stays on track, it will earn ISO certification in just over six months — an undertaking Gadacz says typically takes eight to 10 months. De Braga acknowledges that's an aggressive timeline. "But everybody on our team is motivated to get this done."
Few firms handle the range of tubing Ritz does, all the way from five-eighths of an inch to 8-inch diameter stock.
"I think tube-bending is an especially challenging sector of manufacturing in that when you think of a piece of tube, be it rolled or rectangular, it has already undergone an entire manufacturing process before it comes to us," Teeter says. "So, we have to take the tolerances of the previous manufacturing process and then couple it with the tolerances of our own.
There's quite an art and science behind the tube-bending side of the business."
Ritz is also looking at other new opportunities.
"Ag is definitely a big focus of ours right now," De Braga says. "We do have some (ag) clients of a smaller scale, but it's definitely on the top of our radar. And we are in current discussions with large OEM ag providers."
Teeter says gaining access to new markets, such as agriculture, is an attractive prospect, especially during uncertain times.
"For our business' security, I think a little diversity goes a long way," he says.
De Braga gives Enterprise Minnesota high marks for the role it played in the process: "We're very impressed with how everything has gone and the overall approach they've taken. We've had consultants in the past on our Canadian side. But definitely this is a huge improvement, and we appreciate it."
Gadacz says that, particularly in light of the pandemic, Enterprise Minnesota has had to rethink the way it delivers services, which are often from a distance now. For Ritz, he describes the service delivery as a hybrid model of two remote consultations followed by an in-person visit. "That's kind of the cadence we've been under."
Next Innovations
Unlike Ritz, Next Innovations of Walker, Minnesota, has seen sales surge in the wake of COVID-19.
Arnold Volker, president and owner of the firm, says about half of Next Innovations' revenue comes from the sale of lawn and garden décor, as well as metal wall art. The other half comes from a metal job shop, with much of the capacity from that operation devoted to the production of metal shooting targets made from the company's own proprietary design.
"Because of COVID, we've had an unexpected upturn just due to shooting targets and patriotic items," Volker says. "If all things go the way they're looking right now, we're projecting maybe to be up about 45% this year."
The company appears on track to achieve $2.5 million in sales — the best since prior to 2009.
"So, we're kind of reinvesting in our company because we're having such a good year," Volker adds.
Volker says he's always looking to attract new business and predicts Next Innovations could take better advantage of its location in a Historically Underutilized Business Zone, often known as a HUBZone. That designation could put the company in the running for government contracts through the Small Business Administration. But ISO certification is often a requisite.
The company has seen its business fluctuate dramatically through the years, with its workforce peaking at 84 employees from 2005 to 2006, when the company's colorful line of decorative metal wind spinners took off internationally. But cheaper knockoffs appeared, and as business waned, Next Innovations' workforce shrank to 12. Today, the company employs 16.
"So, we're kind of rebounding back up," Volker says.
As the company's name implies, it's always looking for the next opportunity.
"Our tagline is: 'innovative metal products.' So, we're always looking for new things, and right now we're looking at basically some prototypes of body armor that goes in a vest. So, we love creating things that we're passionate about."
Volker's 20-year-old son, Dawson, shares that passion. He developed the company's line of shooting targets and is now working on the body armor project.
"The thing that's really helped us this year has been the shooting targets," Volker says. "But I personally don't believe that you should rely on one thing. It seems like the best opportunities sometimes come when you least expect them, and you really need to be prepared for that. So, that's why the ISO thing I think is going to help us weather the storm."
The pandemic and the growing popularity of online commerce has also changed the way Next Innovations does business.
"We're getting enough orders online that we need to take the next step and invest in technology that does it all automatically," Volker says.
Traditionally, more than 95% of Next Innovations' business has been wholesale. "This year, though, we've seen that completely almost flip," Volker says. "On the wall art side of things, wholesale has almost gone away, and we're doing more e-commerce."
Next Innovations has seen sales via Amazon and Etsy grow, but Volker says they are also developing their own website — metalartmaker.com.
When it comes to certification, Next Innovations isn't exactly new to the ISO world.
Volker says the company was most of the way through an ISO 2008 certification process, but it never completed an audit to earn the actual certification.
"We kind of had an ISO framework. So, that's kind of helped us walk through this process a little bit faster," he says.
The company expects the certification process to take seven months or less to complete.
"Enterprise Minnesota has been wonderful to work with. They were able to look at what we have and tweak it. The other reason why we did the certification, in all honesty, is because there was a grant" that covered about half of the ISO certification cost, he says.
Even though many companies have leaned toward remote training in recent months, Gadacz notes that different clients have different needs.
"With Next Innovations, the company has desired nearly all on-site meetings to work through the improvements, partly to help them stay focused on the improvement project. If it's remote, it's easier to get distracted," he says. "So, I've been going to their site almost weekly to help them get their implementation done."
Volker says he's in the process of entering a sign contract with a big Florida firm. "That's another reason why I wanted to up our game, in a sense, and improve our own internal quality and efficiencies."
Volker believes seeking the ISO certification can help everyone focus on a common goal.
"I think it helps the employees understand the importance of quality. It just raises that to the forefront," says Volker.
But Volker is the first to admit that juggling ISO training with the demands of a growing business has not always been easy.
"We have a small team of people, and my other people on the team I think have done better than me," he says. "It's been extremely difficult to meet a pretty aggressive deadline along with being busy. But everybody has done wonderfully, realizing that it's important."
Next Innovations was scheduled to undergo an ISO audit in October.
Van Technologies
Van Technologies Inc., a Duluth-based maker of high-performance, environmentally-friendly coatings, headed into 2020 expecting to have its best year ever. And the company appeared right on track to do so.
Then COVID-19 came knocking.
Although it has since begun to recover, Van Technologies' order book took a second quarter hit, says Larry Van Iseghem, the company's founder, president and CEO.
"We're back up to steam, but we saw a 6% reduction in revenue, year to date," he says.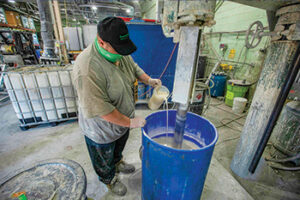 As business slowed amidst the onset of the pandemic, Van Iseghem and his team stepped back and thought about how best to use a temporary lull.
"You have to look at your circumstances, and then you've got to look beyond COVID. You have to look beyond all this other activity that's hitting us, and you have to make sure when you come out of it, you're running faster than ever. And we collectively agreed. If we could get ISO 9001 accomplished at the back side of this pandemic, we're going to be running faster than ever," he says.
The company has since earned its certification, and Van Iseghem says the results speak for themselves.
"It was one of the best expenditures I've made in the history of the company, because it's going to have such a profound impact," says Larry Van Iseghem. "I already see the benefits of the process — from organization to operational efficiencies. People feel much more focused, and it's a less stressful environment."
Gadacz describes those results as a common denominator for many of his most successful clients.
"The motivation with Van Technologies, Ritz Machine Works, and Next Innovations is they want to improve their business and open markets. And they lead with improving the business. That's important."
Gadacz says Van Technologies had many of the quality assurance practices for successful certification already in place and was in a unique position to compress the ISO timeline. The company completed its ISO final certification audit on Sept. 18, whizzing through the process in an impressive 5½ months — shaving 2½ to 4½ months off the norm.
"We were ahead of the game," Van Iseghem says, "but we didn't really know how far ahead we were. So, the biggest challenge is in the unknown. Keith came on, and through his consultancy, he identified exactly where we were."
"[Keith] removed that unknown factor," Van Iseghem adds. "We were expecting to go through the balance of this year striving to get compliance. But it didn't take us much time at all."
Almost all of the consulting services Gadacz provided to Van Technologies were delivered remotely, except for the auditing, which needed to be done in person. While that meant less time on the road, Gadacz says it often involved more planning and adapting to new modes of communication.
"If I'm having trouble explaining a concept in the classroom, I can turn to the whiteboard, and I can sketch out an idea. But if I'm having trouble explaining a concept virtually, I need to have the content available at a moment's notice so I can do a screen-share and explain it a different way," Gadacz says. "It means some of my travel time turns into thinking time."
Van Technologies currently employs 14 people, and while the company is a privately held family business, Van Iseghem ballparked last year's sales between $5 million and $10 million.
He says the company doesn't aspire to make a commodity-type product. Rather, the business delivers highly specialized, tailored products and counts as one of its primary customers the largest window manufacturer in North America.
"We just don't make paint. I don't even like to use the word 'paint.' We manufacture coatings. We innovate solutions for surfaces," Van Iseghem says.
While Van Technologies previously had been growing at an annual rate of about 10%, Van Iseghem aims to accelerate that.
"We're going to target doubling our revenue and profitability. We want to keep our profitability proportional to where we are now, but we want to double our revenue in five years."
Van Iseghem acknowledges that's a lofty goal in uncertain times, but he contends it's still one worth pursuing, with open eyes.
"Now, that's a target. It's not hard-cast," he says. "Look at what COVID has done."
Final Word
A quick turnaround for an ISO project has advantages and disadvantages.
"Getting to certification quickly can open new markets and better how businesses are run," Gadacz says. "Enterprise Minnesota conducts the internal audits for the client, while the client focuses on his manufacturing processes."
On the other hand, Gadacz adds, manufacturers must understand how an ISO project will impact their operations and determine if a quick turnaround is in their best interests.
"They need to think about if they are able to run the system independently. Or, do they need additional sustainment support for another year? Are they ready to walk on their own for internal audits, or will that be part of the following year?"
…
Featured story in the Winter 2020 issue of Enterprise Minnesota magazine.