When IPS Cranes deployed its first 5S to unclutter its receiving operation, the company ended up filling ten dumpsters, as well as creating a group of advocates who valued lean processes and continuous improvement.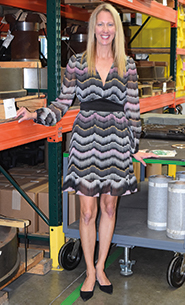 IPS manufactures, refurbishes, and repairs the 2,000 rail-based cranes that are used to maintain the 76,000 bridges connecting 233,000 miles of track in America's domestic rail network. IPS Cranes still maintains its headquarters and parts operation in White Bear Lake, where its 20 employees maintain an 8,000-square-foot warehouse. The company's repair and manufacturing shop has 25 employees in a Duluth-based facility. IPS is the OEM of American & Ohio Locomotive Crane, which manufactures new cranes and rebuilds and repairs existing cranes. IPS is a complete supplier of quality replacement parts for American crawler cranes and genuine OEM parts for American & Ohio Locomotive Crane. IPS also provides full-scale crane services, including load testing and inspection, boom and component repair, ground-up rebuild, innovative design, and engineering upgrades.
"The GAP program has enabled us to do some things in our businesses that we might not have been able to afford otherwise," says Jackie O'Connell, president and CEO of IPS.
The Minnesota Legislature created the Growth Acceleration Program (GAP) in 2008 to help bring business improvement services to manufacturers like IPS with 250 or fewer full-time employees. Since its inception, GAP has helped 371 companies achieve eye-popping results. Generating an average $30-to-$1 return-on-investment, it has created and retained 5,299 jobs in Minnesota, boosted company sales by $556 million, and saved these companies $360 million in business costs.
All funds awarded under GAP must be used to assist an eligible company with business services and products that will enhance the operations of the company. These business services must come directly through Enterprise Minnesota. GAP funds may not be used for financing, overhead costs, construction, renovation, equipment purchase, or computer hardware.
Depending on the size of the manufacturing company, they can get up to a 50 percent rebate for services provided to them. The remaining match must be provided by the company in the form of cash.
IPS has maxed out its GAP account of $50,000 and over the past year has used GAP to help with:
Lean 101, a basic introduction to lean for key employees
5S Kaizens in its electrical and hydraulic areas to maintain organization, reduce non-value added activities, and also learn a process for sustaining the workplace through an audit process
Enhanced marketing through the Marketing Management System
Implementing a lean "Quick Wins" program that encourages lean improvements from employees closest to the action
Learning to Lead program, a series of five sessions aimed at leadership abilities throughout the organization: communication styles, fostering engaged employees, change management and accountability
Skills Matrix and Accountability, a program that helps inside leaders understand their employees' skills along with gaps that might need closing
…
Featured story in the Winter 2018 issue of Enterprise Minnesota magazine.