Hibbing businessmen George Langer and Clay Murray joined forces to launch L&M Radiator Inc. in 1957, inspired by a unique radiator on a Scottish Euclid truck that caught their eye while visiting a Canadian mine.
The truck drew on technology developed in the heat of World War II desert warfare, after the discovery that a single bullet to a British tank's radiator could stop the machine dead in its tracks. The Brits addressed that vulnerability by engineering a new type of radiator with a series of single tube heat exchangers held in place with shock-absorbing rubber seals. If damaged, these individual tubes could quickly be replaced in the field.
Langer and Murray obtained a license to build similar but larger Withnell-style radiators for the mining industry. Soon, Murray's son-in-law Alex Chisholm joined the team, and as he surveyed the mining scene he quickly recognized international opportunities for L&M.
Global player
In North America, L&M initially found eager customers in Canada. Then in 1967, it opened a plant in Hermosillo, Sonora, Mexico. In 1972, Chisholm packed up and moved his family to Perth, Australia, where he launched a third production facility in another promising market.
Dan Chisholm, now L&M's president, was six years old at the time, and his sister, Laura (Chisholm) Ekholm, now the company's executive vice president, was 11.
"As kids, we didn't have a vote," he says of the two years his family spent in Perth. "I cried when we left and cried when we came home." Alex Chisolm died in 2013, but L&M has continued to thrive under a third generation of family leadership.
Despite the company's global footprint, its headquarters remain firmly planted in Hibbing.
"We grew up on the Iron Range. We like the Range. And we've been successful with the workforce that we've had here," Chisholm says.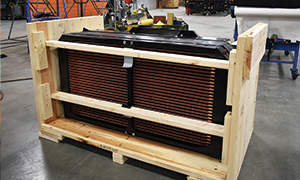 Yet Chisholm notes that Range customers today probably account for less than 2% of L&M's total direct sales. He quickly acknowledges that figure doesn't fully represent the amount of business L&M derives from northern Minnesota mining operations, however, as the company is an original equipment manufacturer (OEM) supplier of radiators to manufacturers of large-haul trucks — 240 tons and larger.
"So, any time the mines up here are…purchasing new equipment, new trucks, they will come with our radiators. And we certainly look after the mines up here," Chisholm says.
Ekholm says it's difficult to say exactly how much of L&M's business is domestic versus international. She explained that about 75% of L&M's North American business comes from directly supplying OEMs.
"And from there, most of that gets shipped overseas. But in terms of what we directly ship overseas, I'm guessing maybe 30 to 35%. It varies," she says.
Ekholm says that L&M keeps its financials "pretty close to the vest," adding that typically annual sales run around $100 million "with lots of ups and downs."
Roller coaster
Mining continues to drive most of L&M's business, but energy sector sales have come in a close second, especially with the growth of fracking. Chisholm explains that the mining and energy industries tend to accelerate and slow in tandem. So, L&M's business is prone to cycles.
"Chicken one day, feathers the next. That's how those industries go," he says.
"We have diversified into other industries and into other opportunities. But there's no industry out there that fits our core niche and can fill a down cycle when there's a mining boom or bust. And that's the same with oil and gas."
L&M has learned to be nimble. When business was hot, the company often scrambled to acquire production space in Hibbing, eventually operating out of five buildings there.
"When we were growing, it was easier to acquire existing space rather than add on to our current space," Chisholm says.
Growing pains
As the fracking industry shifted into high gear in recent years, demand for L&M's cooling equipment surged, and it became unclear if the company could keep pace, as the paint shop at its Yankton, S.D. plant neared capacity.
The company planned out for a new 6,000-square-foot paint shop in Hibbing. But the project snowballed.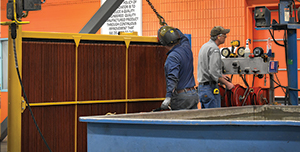 "We decided, if we're going to add 6,000 feet, let's just blow the whole thing up and reconfigure and get everything under one roof. And let's do that while we're still manufacturing, because we can't afford to be down and miss ship dates for current customers," Chisholm says.
Thanks to Max Gray Construction, "it was a choreographed dance that we were able to continue manufacturing while they built the new facility around us," Chisholm adds. By 2019, and about $25 million later, L&M was operating out of a single 145,000-square-foot production facility in Hibbing. The fortunate timing of the project allowed L&M to fulfill growing orders from fracking customers along with meeting continued demand for mining equipment.
Driving efficiency
The new Hibbing plant has enabled L&M to take great strides as an operation, Chisholm says.
"Under one roof, we noticed better efficiencies. Those efficiencies made us realize we could do more with fewer people," he says. Ekholm says those efficiencies have been quite helpful, as skilled labor on the Range has been hard to come by, especially when area mines are hiring at hard-to-beat wages.
"So, achieving a more efficient flow, having more technology, more advanced equipment, has helped us keep up," she says. "We're hiring all the time, but there just aren't enough people to meet the need."
L&M has utilized Enterprise Minnesota for a variety of consulting services since 2012, with financial help from the Iron Range Resources and Rehabilitation Board (IRRRB). Whitney Ridlon, a community development representative for the IRRRB, says its grants enable local manufacturers to afford services that might otherwise be beyond the financial reach of many Range companies, including enlisting front-line production staff to promote continuous improvement.
"If you have an idea, sing it out. You guys are the ones who are doing this every day. Let's look at how we can work together to be more efficient," Ekholm says.
In designing its Hibbing facility, L&M drew on its recent experience building state-of-the-art plants in other locations, including one in Antofagasta, Chile and two more stateside operations that have since closed — one in Las Cruces, N.M. and another in Independence, Iowa.
"Every time we built a new facility, we got smarter. And that, plus the advice we got from outside consultants like Enterprise Minnesota, led us to design a facility that really took advantage of everything we've learned," Ekholm says.
Chisholm says Enterprise Minnesota provided valuable perspective.
"The advantage of fresh eyes is they can come through and look at things and ask: 'Why are you doing it that way?'" he says.
Chisholm says the workflow in Hibbing has improved tremendously.
The new facility is designed with a capacity to manufacture $5 to $6 million worth of product per month, but "we're not quite there yet," Chisholm says.
Empowering staff
Randy Tupa, L&M's quality assurance manager, says the company began working with Enterprise Minnesota in 2012 to improve training.
"We're a cyclic industry. So, we have our ups and downs. But when we're on the way up, we're trying to get people in the door and trained up fast, so they can be productive," Tupa says.
He says Enterprise Minnesota helped L&M improve its job instruction and safety protocols. It also helped the company's supervisory team learn how to build strong, effective relationships with staff.
"The biggest thing we learned was how to break a job down, train people by demonstration, and then have them do hands-on training with more frequent follow-ups than we were used to. We learned to give them little parts of a job instead of dumping the truck on them so we could get them productive faster," Tupa says.
"We've seen a huge improvement getting people on the shop floor and getting them working and producing within the first week or two, where before we were having them shadow somebody for at least a couple of weeks before we trusted them to do anything," he adds.
Tupa also credits Enterprise Minnesota for conducting useful safety walk-throughs of the Hibbing plant.
"It helped us identify things that may not be harming us now but could down the road — just the cleanliness of the shop, the flow and where everything was stored," Tupa says.
Learning to lead
L&M has a long tradition of promoting from within, and that can come with certain challenges for those moving into positions of greater authority.
"Sometimes, all of a sudden, they're leading the boys they used to go drinking with," Tupa says.
"I'm an example of that," he continues, noting that after a 2020 start in assembly he worked in almost every department before landing a management job.
Sometimes, when good, hard-working production workers are promoted, they unfortunately face a steep learning curve, says Jim Schottmuller, a business development consultant for Enterprise Minnesota.
"That's really where we shine — we help manufacturers take their good employees, move them to the next level of leadership and provide them the necessary skills to become good leaders, not just good workers," he says.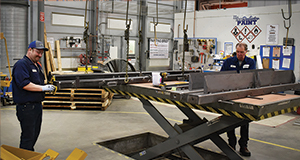 "Sometimes, especially with employees who have excelled in their position, when you put them into leadership, it can turn into a situation where they say, 'Don't ask me questions. That's very easy. I was just doing that.' So, they may start to talk down to new employees because the job was easy for them," Schottmuller adds.
He says that with coaching, however, folks can learn the soft skills that enable them to be thoughtful and caring supervisors who lift people up instead of putting them down.
"There's the golden rule: Treat others how you would like to be treated. But the 'platinum rule' is: Treat others how they want to be treated," Schottmuller says.
The leadership training at L&M has involved both supervisors and people with no direct reports who nevertheless are viewed as leaders on the production floor. That's a smart approach that builds cohesion and also enables the company to develop a deeper talent bench, says Michele Neale, a business growth consultant for Enterprise Minnesota.
Schottmuller credited L&M with extending the leadership training to the upper levels of its management structure.
"While the higher-ups at a company that size obviously have leadership skills, we recommend that if you're going to put your line leads and supervisors through a leadership development program, the high-up leadership should go through it too, so they understand what's being asked of their line leads and supervisors," he says.
Neale says the training also sends a powerful message to workers that L&M believes in them.
"With trying to find and hire people as crazy as it is right now, I think it is so important to invest in your people so that you can retain them," she says.
Riding out the pandemic
As the COVID-19 pandemic struck, L&M was able to hold on to its workers from April through mid-August, thanks to a forgivable loan it received through the federal Paycheck Protection Program.
But as the public health crisis dragged on, L&M was forced to furlough about 65 people between its Hibbing and Yankton plants, all while maintaining employee benefits.
As business picked up, the company quickly started recalling people in October.
"By the end of the year, we pretty much had everybody back, and we started looking for more people. So, for us, it was a really short cycle," Ekholm says.
She expressed confidence the recovery will continue, pointing to increased demand for copper, iron and petroleum products.
"It has to come out of the ground," Ekholm says.
But L&M still faces headwinds.
"The two big issues are material shortages and labor shortages," Chisholm says.
"Lead times are being pushed out because they can't get material, or they do not have the labor to fulfill the orders that they have. And we also have some suppliers who are not taking any more orders for the next several months, because they are as booked as they can be," he says.
As of late March, L&M employed just over 200 people in Hibbing and about 450 people worldwide.
Ekholm says L&M needs more workers, with 25 to 30 vacancies between its Yankton and Hibbing plants.
"We're desperate for people," she says.
Also as of March, L&M was operating with two production shifts at its Hibbing and Yankton plants. Chisholm says he would like to add a third, if the company can muster the requisite staff.
"We definitely have the work. We just need to find the bodies," he says.
Families first
As a family-run enterprise for the past 64 years, it should come as little surprise that L&M also strives to nurture its workers' families.
"We really pride ourselves on being family-friendly," Ekholm says. "We have a lot of young families who work for us, and we try to be accommodating. If you want to go to your kid's choir concert, go for it, and you can make up that time during the pay period," Ekholm says.
L&M encourages employees to be involved in the community and has readily accommodated the schedules of staff involved in coaching local youth athletics.
Neale says such opportunities also serve the company.
"Those skills are transferable," she says. "So, if you want to get into leadership at L&M, doing things like coaching Little League or hockey or whatever the case may be builds skills."
Neale says the company regularly organizes employee events and recognitions.
For example, she noted that this spring L&M gave its employees hams and Easter baskets to be shared with children or grandchildren.
"In manufacturing, that's very atypical, and it's one of the things that L&M does well — they celebrate and recognize the families, as well as the employees," Neale says.
"So many manufacturing companies are so focused on production and processes that they forget about their people," she says. "What I really appreciate about L&M is they recognize the importance of investing in their people."
…
Featured story in the Summer 2021 issue of Enterprise Minnesota magazine.