Even if you haven't yet heard of Towmaster, you've likely seen its products.
One of the company's trailers might have been underneath that big piece of equipment you saw being hauled to a construction site. Or the company's equipment might have been on the plow truck you saw clearing snow off the road following a Minnesota blizzard.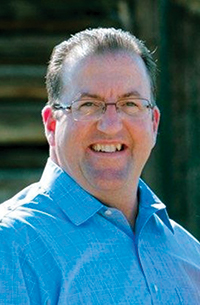 Those scenarios highlight two integral parts of the Litchfield company's operations: trailers and truck equipment. Towmaster was founded more than 40 years ago to provide the former, while the latter emerged as it grew and diversified in more recent years.
The company's leaders strive for continued growth, an ambition helped by high demand for its products over roughly the last year.
Towmaster experienced about a six-week lull in trailer orders during March and April 2020. Since then, says General Manager Mike Albers, it's been all hands on deck to keep up with what he describes as the strongest business environment the company has seen in a long time.
"If we could build more we could sell more," he says. "The demand is definitely there."
Many of Towmaster's trailer customers are construction equipment dealers, although the company has government contracts for trailers as well. The dealer networks sell construction equipment to buyers, who need a way to move heavy-duty pieces.
Towmaster's litany of product families for trailers prove helpful for hauling loads running the gamut from 3,000-pound to 120,000-pound capacities. If buyers need low-deck trailers, Towmaster has them covered. A fifth-wheel drop-deck? The company makes it.
Ultimately, Towmaster wants to be known for quality products across all trailer types, Albers says.
The trailers aren't necessarily built or priced for hobbyists who want to haul their snowmobiles or side-by-sides. It's more about providing trailers capable of standing the test of time for professional haulers who need reliable transportation to daily move heavy equipment to a work site.
"You'll run into plenty of 20- and 30-year-old Towmaster trailers that people are still using every day," Albers says. "We build for the guys who daily use that trailer. It works hard right along with them."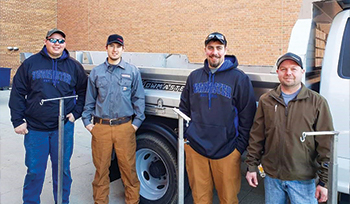 The truck equipment side of the business, meanwhile, was insulated a bit from the pandemic's negative effects. It's more of a contractual business with orders placed a year or more out.
The truck side of operations now accounts for about 35% of business. With how many contracts the company receives from municipalities across the state, on top of state contracts, there's a good chance the trucks people see clearing snow and ice from Minnesota roads came through Towmaster at some point before hitting the pavement. The chances go up even higher if the truck is relatively new — look for Towmaster's name on the tailgate or mud flaps to confirm.
After receiving a bare chassis, the company installs the bed, plow and snow equipment on it, partnering with Little Falls Machine on the latter part. Another Minnesota company, FORCE America in Alexandria, supplies the hydraulics for the plows.
"It's very much a home-grown product," Albers says.
One of the company's newer offerings is a liquid anti-ice spray system built onto a trailer for easier ice control on roads. The concept is meant to reduce the need for road salt, saving money in the long run.
And although a proud Minnesota company, Towmaster's reach extends into all 50 states.
Perfecting then expanding
Towmaster's history dates back to the early 1970s, when it started as part of Palm Industries. Owner Harlan Palm's initial vision for the new company was to build trailers with low deck heights so people could more easily move skid-loaders.
From there, the company started making more lines of trailers. They now have more than 10 trailer categories, used by customers ranging from cities and landscaping companies to construction companies, driving fleets and other industries.
Towmaster split off from Palm Industries in 1994, moving its headquarters to the old Palm Industries manufacturing building in Litchfield. With the move came a plant makeover.
Modernizing the equipment paved the way for Towmaster to produce trailers in-house, including custom options. Adding a 64,000-square-foot facility helped expand production.
The building is now used to produce several lines of trailers. It includes three paint booths and a finishing area as well.
For decades, Towmaster focused almost exclusively on trailers, building the reputation it still has today. Come 2008, however, Towmaster took a major diversification leap into manufacturing and assembly of truck bodies and equipment.
Its work in both areas led to Monroe Truck Equipment buying the company in 2017. The partnership improved lead times while expanding Towmaster's market base.
Adapting for the future
Like all manufacturers across Minnesota, Towmaster had to adapt once the COVID-19 pandemic hit the state. As Enterprise Minnesota's 2020 State of Manufacturing® survey found, all areas of the industry were hit differently by the pandemic.
"Some manufacturers are gasping to keep up with skyrocketing demand while others are gasping to keep solvent," said Bob Kill, Enterprise Minnesota's president and CEO, while presenting the survey results in November 2020.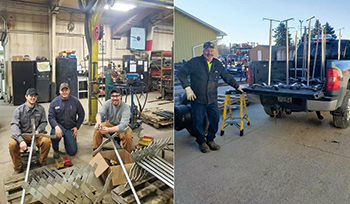 Even as Towmaster's business proved resilient during the pandemic, it isn't alone in facing hiring challenges. Finding more workers is the company's main struggle at the moment, Albers says.
Many manufacturers are reporting harder times finding workers, especially in Greater Minnesota where the hiring pool isn't as deep as more populous areas. As is, Towmaster boasts about 175 workers while it recruits for more.
Towmaster was recently looking to hire about 14 welders and six to eight truck installers. The company is willing to train people for any of the positions, but Albers says the application rate has been lower than usual despite outreach happening in Litchfield and the surrounding 40-mile area.
As a longtime staple in the Litchfield business community, Albers and the rest of the company's workers take pride in being community minded. They hold blood donation drives, stay active in the local Chamber of Commerce and sponsor community and school events.
Ahead of a high school graduation, for example, Towmaster worked with a local shop to make sure students received graduation gifts.
Another of the company's recent community-outreach projects arose during the early days of the COVID-19 pandemic. The local hospital was anticipating an uptick in patients, so Towmaster responded to a need by designing and building IV stands to make sure the care facility was well supplied.
A team effort between welders, fabricators and drivers, the company ended up delivering 50 IV stands to Meeker Memorial Hospital in April 2020. The hospital showed its appreciation through a Facebook post.
"Thank you to the staff at Towmaster Trailers & Truck Equipment," the hospital posted. "We are overwhelmed with the generosity and support we are receiving during this unprecedented time."
Kill describes Towmaster as a success story in Greater Minnesota manufacturing. Towmaster participated in Enterprise Minnesota meetings both in-person and virtually during the pandemic, with business leaders meeting to learn about strategic planning and lean leadership — which includes instilling a culture of continuous improvement.
The meetings are greatly helpful for networking, like a recent one that connected Towmaster to potential vendors on automation, says Albers. Another benefit, he adds, is how business leaders can bounce ideas off of each other.
"Sometimes you feel like you're in a vacuum, so when you hear someone going through a similar situation, you kind of perk up and learn how they've dealt with it," he says.
Looking ahead, Albers says he hopes to see continued growth at Towmaster as it remains a place where employees can find stable careers in the manufacturing industry. He's also looking forward to more investments in automation and other new technologies, while monitoring how the rise of electric and hybrid vehicles could impact the market in the future.
The overall goal through it all, Albers says, will be staying on the cutting edge of a competitive industry.
"We have to not just keep up with the market but try and stay on the leading edge of the market," he says.
…
Featured story in the Summer 2021 issue of Enterprise Minnesota magazine.