Minnesota's manufacturers retained near-record levels of optimism about the prospects of their companies in 2019, according to the most recent edition of the State of Manufacturing® survey. But underneath that cheery confidence is a growing concern that the looming shortage of workers will constrain their ability to grow profitably, and a recognition that the long-term solution will be through improved productivity.
The State of Manufacturing, created and overseen by Enterprise Minnesota, is a statistically balanced opinion survey of manufacturing executives in Minnesota.
The 2019 study is the 11th edition of the annual survey. It was conducted by Rob Autry, the founder of Meeting Street Research, a public opinion research firm based in Charleston, South Carolina. He has overseen all 11 surveys.
Autry's firm interviewed 400 manufacturing executives from March 5 to March 20. Executives included CEOs, CFOs, COOs, presidents, vice presidents and managing officers. Meeting Street also completed 123 additional interviews among manufacturers outside the Twin Cities to gather a sufficient sample size to analyze the state according to Minnesota Initiative Foundation regions. The survey's margin of error is +/- 4.9 percent.
Enterprise Minnesota supplemented the survey data by conducting 13 focus groups statewide. Transcripts of these focus groups can be found on the 2019 survey results page or in the 2019 State of Manufacturing Survey Book.
The survey revealed that overall confidence continues to soar at extremely high levels among Minnesota's manufacturing executives.
Ninety-three percent of executives feel "confident" about the futures of their companies, exactly the same percentage as last year. Only five percent are "not confident," the lowest number recorded in the history of the survey.
Fifty-nine percent of executives expect increases in gross revenue, while 45 percent project increases in profitability, both close to record highs.
Fifty-eight percent expect employee wages to increase in 2019, which is six percent higher than 2018. Only one percent expect wages to decrease. The greatest increases were projected by large companies (78 percent at companies with revenues greater than $5 million, and 74 percent at companies with more than 50 employees). Metro companies (62 percent) are more likely to expect wage increases than those in Greater Minnesota (53 percent).
The survey's sole hint of uncertainty can be found in the sharp drop in number of manufacturers who expect America's economy to expand in 2019. Only 49 percent predict expansion, a full 15-point drop from the 2018 survey. Similarly, 39 percent expect a "flat economy," up 11 percent from last year. Only five percent expect "recession."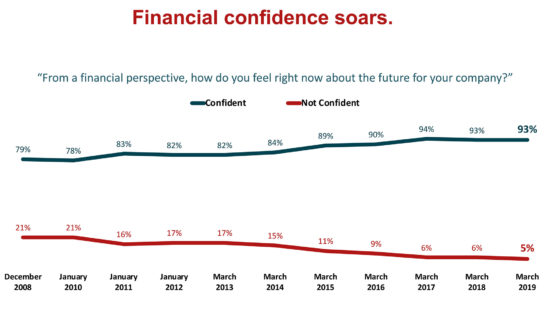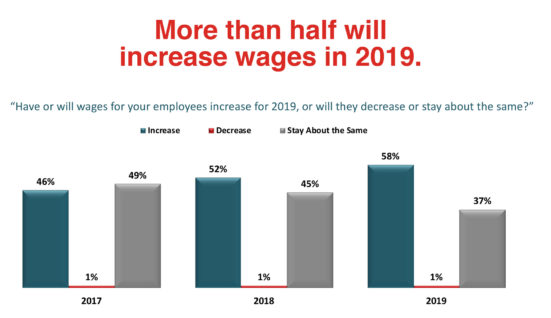 There was an intriguing east-west split among the Initiative Foundation regions, with the west showing far greater pessimism about the economy: Forty-five percent of executives in the Northwest (based in Bemidji) predicted economic expansion; West Central executives (Fergus Falls) came in at 41 percent; and pessimism was strongest in the Southwest (Hutchinson) at 37 percent. Manufacturers in the east expressed greater confidence in the economy: Northland, Duluth, 56 percent; Initiative Foundation, Little Falls, 54 percent; and the South, Owatonna, 54 percent.
Ongoing Anxieties
At 58 percent, concerns about the costs of providing health care coverage to employees is rated as the top concern among manufacturers, as it has in each of the 11 years of the survey. Apprehension about government policies and regulations is a top concern of 40 percent of manufacturers, down from a whopping 61 percent in 2011. Fears of foreign competition is down to 13 percent, which is down from 20 percent in 2011.
A plurality (45 percent) of executives say Minnesota is a better place to do business than it was five years ago. Thirty-seven percent say it has stayed about the same.
Workers
The inability to attract qualified labor is very high on the heartburn scale of manufacturers. At 48 percent, the ongoing worker shortage topped the list of biggest challenges "that might negatively impact future growth." This number is 27 points higher than it was in 2014. In this context, the cost of health insurance fell to 30 percent, and "increasing costs of energy" came in at 28 percent.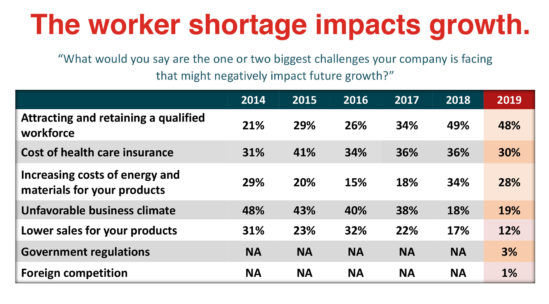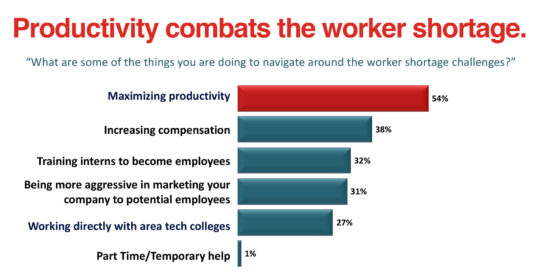 Seventy-one percent statewide said the worker shortage makes things "difficult." Most affected are larger companies: 84 percent of companies with revenues in excess of $5 million found it difficult; 84 percent of companies with more than 50 employees also found it difficult.
Seventy-six percent of companies in Greater Minnesota found it "difficult." Broken down by Initiative Foundation regions, it looks like this:
Eighty-five percent each in the West Central and South
Seventy-six percent in the Southwest
Seventy-five percent in the Northwest
Seventy-three percent in the Initiative Foundation
Sixty-five percent in Northland
Productivity
A majority of manufacturers (54 percent) cited "maximizing productivity" as the way they would navigate challenges related to the worker shortage, with 76 percent saying they would emphasize improving "people development and process improvement equally." Even more telling, manufacturers now say that maximizing productivity is second only to "finding new customers" as an "important driver of future growth."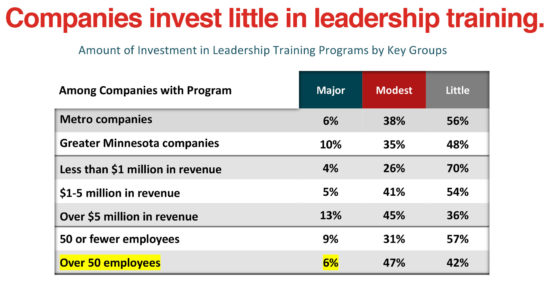 Two extrapolations from this data provide even greater insight into the value of productivity:
Companies with revenues over $5 million predict that maximizing productivity will have equal significance as finding new customers as the top driver of future growth.
When they combine "eliminating time & energy waste" with "maximizing productivity," a whopping 70 percent of larger manufacturers project that improved productivity will be the most significant driver of future revenue growth.
Automation
Sixty-four percent of manufacturers deploy some form of automation in their manufacturing operations. Of those, 50 percent say it is to improve productivity; 38 percent say it is to improve product quality; 30 percent say it is to improve safety; and 24 percent say it is to enhance the work environment.
The number of companies that have introduced "structured leadership development" programs has inched up from 19 percent in 2018 to 23 percent in 2019. But of those companies, 52 percent described their involvement as requiring "a little investment." Only eight percent described it as "a major investment." Large, metro-based companies appear to be pursuing training most aggressively.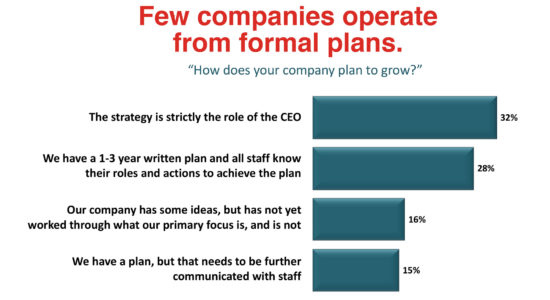 Strategic Planning
Curiously, the number of companies that deploy a "formal strategic plan for profitable growth" has declined. Today, 49 percent of companies statewide use a strategic plan, while 49 percent do not, a slight decline from 2018, when the comparison was 53 percent to 47 percent in favor of planning.
Not surprisingly, larger companies are more likely to operate from a formal strategic plan. Eighty-five percent of companies with more than 50 employees use a plan. On top of that, a growing number of executives declare that strategy is "strictly the role of the CEO" (32 percent in 2019, 28 percent in 2018). Twenty-eight percent of manufacturers say their companies "have a 1 to 3 year written plan and all staff know their roles and actions to achieve the plan."
About the pollster
Rob Autry, founder of Meeting Street Research, is one of the nation's leading pollsters and research strategists. The Meeting Street Research team has 25 years of combined public opinion research experience and 2,000 research projects under its belt. He has conducted all 11 State of Manufacturing surveys.
Before founding Meeting Street, Autry was a partner at Public Opinion Strategies. 
…
Featured story in the Summer 2019 issue of Enterprise Minnesota magazine