Christopher Noddings, vice president of operations at R&D Batteries, decided in early 2021 that he'd prepare his company for post-COVID growth by pushing through the daily frustrations of the current marketplace and achieving its ISO 13485:2016 certification.
R&D manufactures replacement batteries and lamps for the health care industry from its 15,000-square-foot plant in Burnsville. The company was founded in 1989 by president and CEO Randall Noddings — Christopher's father — who was intrigued by the high-end batteries' business model: Their limited shelf life would mean that replacements would always be in demand. Company lore, according to Christopher, has it that Randall started the company "with nothing but a Mickey Mouse phone, a card table, and no customers." (A photo of the phone still receives a prominent placement on the R&D website.) A classic entrepreneurial startup, Randall and a couple of employees engineered R&D's first products from an 1,100-square-foot office, where he also took on purchasing, payroll, customer service and shipping. He instructed his first salesman to come back in three months after he had developed a market.
Randall's plan worked. R&D grew exponentially in its first five years. And with his three sons, Christopher, Jim, and Travis, he built the company into an $18 million operation that today employs 35 people.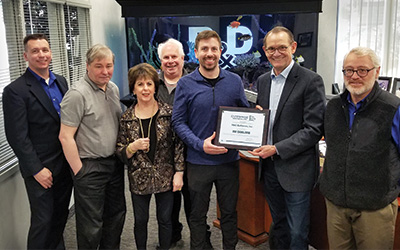 As Randall nears retirement, heir apparent Christopher is already tweaking the operation for future growth. He's executing plans to expand the company's product lines into cables and sensors that would plug into the same equipment powered by its batteries. "I think our name will be enough to get us into those markets pretty easily," he says. "Our collective management team has 150 years of experience."
That expansion, Christopher understood, would mean that new, bigger customers would require R&D to get its ISO 13485 designation, which it did in December 2021, with the guidance of Enterprise Minnesota Business Growth Consultant Keith Gadacz. Christopher says he and three of his company managers invested more than 4,000 hours over 11 months to complete the application, which he thinks was time well spent. "We'd been talking about it for a number of years before we actually pulled the trigger," knowing that it would require a significant investment in time and money. "The audit went as smoothly as can be. We finished early by almost an entire day," he says.
He already appreciates the managerial discipline ISO instills into a company. Employee buy-in proved to be "relatively easy. It was just different. We had to teach them that you have to have a paper trail of everything with ISO. That was maybe the only challenge. There is value putting down a procedure or a system and then proving it out over and over and over again."
Christopher's decision to move forward for future growth was not accomplished without fighting the constraints of the current COVID economy. R&D was already having to respond to fluctuations in market demand based on hospital priorities. Products related to elective surgeries faded badly, while the need for ventilator pump batteries "went through the roof," he says. The company made no layoffs while jockeying with this market demand; in fact, the changing heavy demand meant the company had to hire more people.
Shipping and transportation confronted R&D with another significant challenge, both in terms of price and timing. Christopher says in past years the company could expect to pay $2,000 for containers from China, Vietnam or Malaysia. Today they cost more like $28,000 and require long and unpredictable lead times. Pre-COVID, Christopher says a container would arrive within eight to 12 weeks after posting a purchase order. "Now we're pushing about 38 to 45 weeks," he says. "I had to forecast almost an entire year in advance."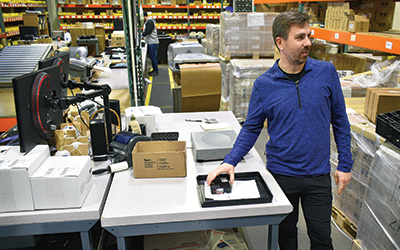 "You can forecast the usage based on history, but you cannot forecast the industry closing down because of COVID," he adds, noting that all 14 containers he currently has on order are late, six were due before October 2021. A possible silver lining, according to Christopher, is that R&D had the prescience to make the order, while others didn't. In fact, other manufacturers are currently buying from R&D because they didn't have the foresight to forecast.
Despite the challenges, Christopher remains dedicated to keeping his eye on future improvements. "We've been hit by this pandemic, like anyone else, but that doesn't take my attention off my goals." While he can now check ISO off his list, he is currently redoubling efforts to launch a more robust and customer-friendly e-commerce presence. And he's already contemplating a five-year objective to expand R&D's physical plant to 45,000 square feet.
But he also couches his plans with a certain pragmatism. "Maybe right now we're just motivated to riding this out," he says.
…
Featured story in the Spring 2022 issue of Enterprise Minnesota magazine.