Just a few years ago, Bemidji Steel owners Dale and Jane Grasdalen were pondering the future of their company. The steel business was changing; the location in northern Minnesota seemed geographically limiting. Would relocating to North Dakota open up new markets? Where were the new customers, and what would they want?
At about the same time, the Grasdalens' son Alex was feeling the stresses of his job in Minneapolis and needed a change. In May 2018, he moved back to Bemidji to attend Bemidji State University and find a new direction while working at the family-owned business. But with Alex's marketing experience and ideas, and some bold investments by Bemidji Steel, both he and the company are finding a new direction.

Dale Grasdalen founded the company after graduating in industrial technology from Bemidji State University in the middle of the 1980s recession. His father had been a steel salesman, working out of Minneapolis, and Dale decided to open a steel company in northern Minnesota.
"There were no jobs in the midst of the recession," he recalls. "I thought maybe I should try this because there were loans to be paid in 10 months. There was nothing to lose." The company opened in 1983 in Bemidji's Industrial Park.
"It was just steel selling, like a lumber yard with metal," Dale says. After Dale and Jane were married in 1994, Jane became the company's bookkeeper and co-owner. A few years later, they started a family, but Jane returned to work and took on more responsibilities. The economy had improved and business was in full swing. They built additions on the two buildings, reconfigured space and purchased new equipment.
"We started adding some fabrication equipment maybe 20 years ago, and that's continued," Dale says. "Customers no longer buy steel. They want cut pieces. They want partially fabricated."
The company's automated long-cut saw and drill press could do some things, but newer, more sophisticated CNC equipment enabled the company to move in other directions. They provided bending and forming in addition to custom welding for prototypes and series production with new material from Bemidji Steel. The Industrial Park location and its two buildings with about 14,000 square feet of workspace was stretched to its limit. What else could the company offer?
Customers want quality, partially fabricated pieces that are consistently produced by a reliable, highly qualified vendor.
When Alex returned to Bemidji Steel, he thought his role would be temporary. When he was younger, he had worked at the shop, cleaning, mowing, doing whatever needed doing. Jane recalls, "He was always our IT helper. It came naturally for him. QuickBooks would crash or we'd have to install a new program, and he knew how to do that—from about age 12 or 13 on."
In addition to being tech-savvy, Alex returned with marketing experience. He started taking the pulse of existing and potential customers. What did they want? How could Bemidji Steel meet their needs?
Heading in new directions
One evolutionary step came two years ago with the addition of a CNC plasma table to cut plate. The machine can cut carbon steel up to 6-feet by 12-feet and 2-inches thick. Requests from current customers and area manufacturers started coming in and opened up new avenues.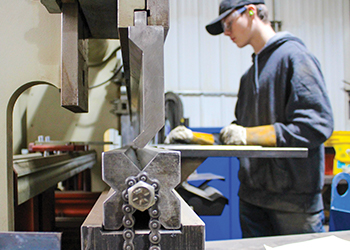 In fall 2018, the organizers of Hockey Day Minnesota 2019 contacted the company about donating time and custom-made fire rings to promote an event in Bemidji that January. Bemidji Steel donated about $8,000 worth of time and materials. Afterward, Bemidji Youth Hockey auctioned the items for a significant benefit to the association. Hockey Day Minnesota was so impressed by the community spirit and quality work from Bemidji Steel that it purchased the same amount for the 2020 event.
The plasma cutter moved the company to the next level. In 2019, Bemidji Steel added a Durma CNC press brake that can bend half-inch flat sheets of metal up to 10 feet wide. With smart new versatile machines, Bemidji Steel was evolving.
Last summer, Jane says, "Alex was feeling the potential for growth." He had more ideas for things to change and add. One customer, whose business had dwindled significantly, said his company now buys all its parts custom cut. If Bemidji Steel could laser-cut pieces for them, business could grow dramatically.
"The lightbulb came on," Dale says. Manufacturers are eliminating initial processes. They don't want to purchase or upgrade expensive equipment that will sit unused when they're not cutting or bending pieces in-house; nor do they want to hire skilled workers to run those machines part of the time. They want quality, partially fabricated pieces that are consistently produced by a reliable, highly qualified vendor.
The plasma cutter and press brake added value to Bemidji Steel's services. But imagine what a laser cutter could do. Imagine how all of these smart machines could work together. Imagine all of the applications that hadn't been explored yet.
Cutting edge changes in the works
In January, they remodeled one of their two buildings to accommodate a top-of-the-line laser cutter that arrived in February. "It's high-precision, high-quantity and cost-effective," Dale says. "The laser can do so much more and does it faster, so costs go down." It is also energy efficient, requires less maintenance and cuts much faster than the plasma cutter.
"It opens up doors for our customers and for us," says Jane, the company's CFO and major owner. "Maybe we can offer something they thought they could never do before. Maybe we can help them grow their business because we can cut something for them that can allow them to acquire new customers."
The new laser cutter communicates with other machines, such as the 250-ton Durma press brake. "The goal," Alex says, "is to have a smart factory with integrated technology that all works in a networked environment." As production increases, automation machines can be added and integrated.
"This will be a large improvement for our internal processes and customers," Alex says. "It will allow us to cut parts on demand in large quantities, as well as be more environmentally friendly and create a cleaner, safer work environment."
Casting a bigger net
Prior to the expansion, Bemidji Steel's customer base was within a 100-mile radius of Bemidji, with accounts ranging from hundreds of dollars to hundreds of thousands. With capabilities to provide partially fabricated pieces, the company is branching out in new directions. "We're going to start with the customer base we've got," Dale says, "and add an entirely new one, to bring new revenue, to add jobs in Bemidji. We need to cast a bigger net."
He envisions a multi-state area, eventually nationwide. "We're not going to walk away from any [of our current customers]," Dale says. "But this is going to change and add value to the whole company and help our local customers."
While Dale had once seen the company's location as a limitation, he today says the company's productivity has helped remove geographic constraints.
"There's not a lot of growth that happens here in Bemidji on the industrial side of things, [but] we can make things happen by finding [new customers], and shipping to them outside the area."
Negating limitations of location
Shipping is another factor that has improved dramatically. "Overnight FedEx and UPS make all of that shipping easy now." It negates much of the geographic limitation. In addition, Bemidji Steel has two trucks of its own, which are on the road daily, delivering products in Greater Minnesota.
"There are no barriers for doing something for someone in California or Arizona, Florida or New York," Alex says.
Building partnerships is another part of the plan. Dale points to one example: a machine shop that used to purchase more steel than it currently does. Now it buys partially finished pieces it can machine and ship out. If Bemidji Steel can produce those pieces, the two shops can work together to provide parts and pieces for manufacturers, eliminating all or part of the initial manufacturing process.
Heading toward ISO certification
Taking the company in new directions involves more than investing in expensive machinery, building partnerships and expanding the customer base. It also means analyzing the way the company has done business in the past to fine-tune and standardize processes and procedures for maximum quality and efficiency.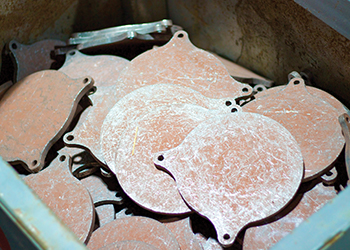 For the past several months, Bemidji Steel has been working with Enterprise Minnesota's Keith Gadacz, a business growth consultant, to become ISO certified. Through the certification process, Gadacz helps companies examine how they are operating, what systems, methods or procedures they have in place. If those methods aren't working as effectively and efficiently as possible, he coaches employees to problem solve and develop processes that will work best for the company.
"I push them to think about what a better day feels like—to look out 90 days," he says. "What two or three things can we do to make a better day a reality?"
Gadacz meets on site weekly with a team from Bemidji Steel. They work through the standards spelled out in the ISO certification manual and determine what best practice steps can be implemented to add value. They discuss ways to eliminate waste of time and materials and to simplify practices to avoid duplication of effort. They work toward standardizing processes for maximum efficiency and look to the future to see where automation can improve productivity.
"It's like dissecting what you're doing," Jane says, "and documenting everything—finding mistakes, analyzing why they happen and figuring out how to address them."
It's an expensive undertaking, she continues, but it will open doors for Bemidji Steel. "It makes you very aware of everything you're doing. We're trying to implement what we're learning along the way so it becomes habit."
(ISO) makes you very aware of everything you're doing. We're trying to implement what we're learning along the way so it becomes habit.
"[We're] working with Keith on the ISO 9001:2015 certification for quality management," Alex says. "Keith has put us on track. We started this at the end of October; we'll finish in July of this year. This is going to grow the company, taking us from the sales numbers we have today to a much broader market in 10 to 15 years."
Building a highly qualified team
During meetings with Gadacz, key employees are directly involved in the process and others are called upon for input. Phil Underdahl, who had worked for Bemidji Steel in the late 1990s to 2001, returned to the company in April 2016.
"It was the perfect time to come back," Underdahl says. His enthusiasm for the business' growth and expansion is evident, as is his respect for Dale. "Dale is always ready to do things better and never afraid to invest in the guys in the shop." Underdahl, the company's general manager, is heavily involved in the certification process. Attentive to detail, knowledgeable and committed to growing the company, he is a significant contributor during meetings with Gadacz.
Meanwhile, employees are training with the new laser cutter and continuing in a variety of educational and experiential programs to add to the skills they have brought to or learned at Bemidji Steel. Underdahl already had several hours of training for the laser cutter before it arrived and is excited about the machine's ability to integrate with peripheral machines and robots.
"The plasma cutter does a nice job of re-creating parts," he says, "but the laser is so precise. Its only limitation is how smart the operator is."
Alex Grasdalen and Sam Nelson also have received training for the laser printer. Nelson has worked for Bemidji Steel for about two years. His background and skills in construction technology and welding translated well into machinery operation.
For the past three months, Nelson has been involved in the Minnesota Innovation Initiative (MI2), a state-funded program that gives participants an extensive mechatronics overview. MI2 includes e-learning, skill labs, and credit for prior learning for selected courses at higher education institutions. Working at Bemidji Steel gives Nelson and others immediate application for what they learn through MI2. Completion of the two-year program results in a production technician certification through the Manufacturing Skill Standards Council (MSSC). The Grasdalens have invested in workers such as Nelson, picking up the training costs not covered by grants.
Personnel are critical, Dale says. "We've lost some good people who have retired or moved, but we've probably got as good a crew now as we have ever had."
Newer members to Bemidji Steel's team include Bemidji State University senior in business management, Alex Stenberg, who is involved with the certification process and marketing. High school senior Jake Slough is interning through Bemidji High School's Career Academy program. Also new to the crew is Dan Murray, a 2019 BHS graduate with mechatronics and CNC machining training.
While they work at Bemidji Steel, all three are continuing coursework and training that will apply to what they do or will do at the company. Slough says he hasn't fully grasped the opportunities the experience of working at Bemidji Steel has given him. After he graduates from BHS, he hopes to pursue a degree in project management at Bemidji State University and get in on the ground floor of what Alex Grasdalen refers to as "Bemidji Steel 2.0."
Bemidji Steel's future
With the addition of state-of-the-art equipment and technology, expansion of markets, new procedures for efficiency and other improvements put in place through ISO certification, and the support and training of a healthy workforce, Bemidji Steel's future looks bright.
"There's nothing unique in what we're doing," Dale says. "It's done all over the place. It's just unique to say we can do this in Bemidji and find things to make here. Some of [our customers] have similar equipment, but it's aging and they can't justify buying another one. Maybe that's where we come in—to make those components to keep them going as they were. We take that equipment out of service, keep the people who were running them, and put them to work in the final assembly or other places. This way, we don't tie up that product labor."
His son Alex knows the company must invest in order to grow and acknowledges the growing pains of the physical plant. He says that 30,000 square feet would be ideal in one building. But the company has goals beyond the physical growth and increased profit.
Alex hopes to see more manufacturing in northern Minnesota and Bemidji Steel as a pillar of that growth. While much of the physical labor will eventually be done through automation, new jobs will open in sales, marketing, truck driving, delivery, production, technology and highly skilled labor.
"[We want] to become better stewards of the community, to be a company that does the right thing and provides good-paying jobs." Alex says. "Our employees can get an education, have a family, and stay in the area. They want to continue working with us because we treat them right."
…
Featured story in the Spring 2020 issue of Enterprise Minnesota magazine.