As Joe Altstatt surveys the lot on which he and his sons intend to build a new 37,000-square-foot warehouse, he has to admit this level of success wasn't part of a grand plan when, as a 25-year-old, he took over Western Spring Manufacturing from his father in 1974.
"I was just looking to make a dollar," he says now. A school teacher at the time, he learned the business by spending weekends and vacation time working alongside his father in the shop.
"I recognized there were all kinds of opportunity coming in the doors. My dad stepped away, and I just showed up and started doing stuff," he recalls. "I made a job for myself. We were a mom-and-pop at best."
One of seven siblings, he took over a business that had started as a blacksmith shop and had evolved into a general machine shop that did a lot of machine maintenance and repair. The operation included a building near the Lowertown neighborhood in St. Paul, some tools, some equipment, some customers, but no employees.
"We had more or less deteriorated at that point," Joe says. "There were ups and downs, like any business."
His sons' recollection of the circumstance is a bit more pointed. "My grandpa didn't like to have people issues, meaning employees," says Ben Altstaff, who today supervises the operations of Western Spring along with his brother Alex. "He thought it would take him ten times longer to explain something to somebody than to actually do it himself."
Says Alex: "He was a pretty hard-headed German," when it came to business.
"His way or the highway," Ben adds.
Family lore has it that Grandpa Ray wouldn't extend credit terms to even his best customers. "You want this, you pay for it now."
Nonetheless, Joe kept his father on the payroll until he was 89 years old. "There was never any flip of the switch" on ownership, he says. "My father was absent, but he was the owner. I was his source of income."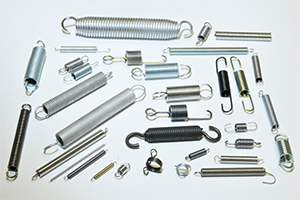 Joe says it was an amicable arrangement. "I was fine with that, because I understood the rules," but he also admits the arrangement handicapped his flexibility in the business. There were things I couldn't do because I couldn't risk his retirement."
Ray lived independently until age 92. Every two weeks, Joe would personally deliver his paycheck until one night in 1998, when his 89-year old father looked across the table and said, "Joe, this is the last check you'll ever have to bring me."
Joe responded, "That's fine, dad. I'm not going to argue with you."
Joe gradually grew the business with nothing more than an ad in the Yellow Pages and the realization that "your reputation's always on the line." He "did everything," Ben says, from sales to production to shipping. "I applaud him for that. He was a one-man band."
Ben and Alex got involved as youngsters, watching and helping as Joe would bring products home to work on. "We got our hands dirty," Ben says, acknowledging that there was no expectation that they would join the business, "but it was always a possibility."
The company grew gradually, with Joe adding and personally training a couple employees in the late '90s; they are still with the company. "The trade schools don't teach spring making," Joe says. In 1998, a company called Midwest Spring shuttered its St. Paul plant and freed some experienced spring makers, some with 30 years' experience. Without yet having the business to support them, Joe hired five and kept three. "It turns out there was a reason that company went out of business," Joe says.
Throughout, the company kept to its spring-making niche. Joe says the company initially acquired that market specialty, despite relatively low margins, because it was reliable business that didn't typically necessitate the drop-everything urgency of machine maintenance and repair. "Joe would say if you're going to start a business from scratch, a spring isn't where you're going to start," Ben says. Western Spring's customers range across a wide base that includes agriculture, defense, firearms, and medical, among others.
In 2004, Western Spring moved its operation from downtown St. Paul to Hugo, a growing exurb on Highway 61 just north of White Bear Lake.
The company has never been shy about adding equipment that improves and streamlines their processes, because increased business always follows.
"We were at a crossroads," Joe says. We were successful downtown. The building was paid for even before I got there, so we didn't have the kind of rent that kills a lot of businesses. It was timing. I always said to the boys that I didn't have any problem if they didn't want to join the business, but if you do, the pie needs to grow so everybody can make a living. A 6,000 square foot building in St. Paul limited that growth potential, the loading dock was low and parking was at a premium.
"Going to Hugo was part of a strategic plan," he said.
That strategy worked. Now, with 18 employees working in a 17,000-square-foot plant, the company has achieved 15 to 30 percent annual increases in revenue, with proportional increases in profit in each year since the move.
"There wasn't really one year that was off the chart," Alex says. It's been pretty steady.
There was no special strategy for growth, he adds. The company continues to serve the five-state upper Midwest, with occasional work from Canada and Mexico. There is no over-reliance on one client or one industry. The company added a contract salesperson, but marketing is still largely due to repeat customers and word-of-mouth referrals. Western Spring's largest customer is responsible for just eight percent of the company's revenue.
The attitude has always been "put your head down and just keep on plugging away and do order after order. And so, as that's happening we're getting some more employees, we're getting some more machines."
The company even posted 30 percent growth in the recession of '09.
Ben speculates that Western Spring's competitive pricing and timely deliveries have been the keys to success.
Ben says the company has "kicked the tires" of a couple mom-and-pop-sized acquisitions but none have come to fruition.
The company is considering taking on related activities that it currently outsources, such as painting or powder coating parts. Mostly, they are contemplating what they can expand when they finish their new plant, just across the street from the existing facility. It is currently being laid out with the help of David Ahlquist, a business growth consultant at Enterprise Minnesota.
"We can imagine things in our head but it will become clearer when we put it down pencil on paper," Alex says, adding that the company has already ordered a new piece of equipment that could be accommodated only in the larger space.
Ben adds that the company has never been shy about adding equipment that improves and streamlines their processes, because increased business always follows. "But, investing back into the company is probably contributing to our growth year after year."
Joe admits that his company's growth has "exceeded my expectations." We had to grow the business—grow the pie—in order for everybody to make a living. I guess that's pretty much where we're at now, with basic customers and the type of work we're able to do now.
But it's time to step up again.
"I'm exaggerating now, but you can't do $20 million worth of revenue in 18,000 square feet. We are a job shop. We need space. We're tight now, and it would limit growth or opportunity if we didn't have the space, which equates, to a certain extent, to the horse power that's required to grow.
He says the property has been for sale since he first moved the Western Spring operation to Hugo. "We've always had our eye on the property, but the (owner) was holding out for the big payday."
Hopefully, this new property and the current space we're in, everything will kind of blend together and become part of our estate, so to speak.
"I'll be stepping away, but I don't have any formal plans of when that's going to play out," Joe says. "Timing just kind of happens. Obviously, the boys are of the right age now. I think I still have to have some role, in terms of making peace or keeping peace. He says he reads a lot about preserving family businesses.
"It's important to me not to make the same mistakes that others have made," he adds. "I don't know if I can put my finger on it, but a lot of time it's about egos and entitlements. I don't necessarily want to control or pull all the strings, but I do want to guide the ship, so to speak."
And the next expansion? "It depends," Alex says. "It's all about timing and whether we have a next generation that's interested. We have young children—not saying that we won't force our hand to be in the business, but maybe they want to. We're not going to deny them, I guess."
…
Featured story in the Spring 2017 issue of Enterprise Minnesota magazine.