Savillex, the Eden Prairie makers of fluoropolymer-based products since the mid-1970s, wanted to expand its reach to new markets.
New owners at Stanchfield-based Reliable Bronze were ready to upgrade the processes that made the company successful and build for the future.
And the executives at General Label in Minneapolis hoped to strengthen an already solid history of quality management by implementing a better industry standard system.
Among many differences, these manufacturers share one important priority: They all see pursuit of an ISO certification as crucial to their future success and profitability.
The kinds of challenges all manufacturers face — labor shortages, supply chain issues, etc. — aren't going anywhere, and in most cases there's not a whole lot a manufacturer can do in the short term to solve those problems.
But implementing an internationally recognized quality management system such as ISO — whether you're working in life sciences or labels — is a proactive step any manufacturer can take to improve operational efficiencies and increase profitability.
Taking the steps to implement such a system — and doing so with intention and vision — is a cost that will more than pay for itself.
"For most of our clients, return on investment tends to be in that 10-to-1 to 50-to-1 range," says Keith Gadacz, an Enterprise Minnesota business growth consultant. "Looking forward in growth, profitability improvement, employee engagement — that all shows up in that double-digit to one ratio."
Savillex
Savillex is a life sciences company that has been around for nearly 50 years, manufacturing some of the most advanced products in the industry.
"The company really traces its origins to the invention of fluoropolymers," says Steve Harding, president of Savillex.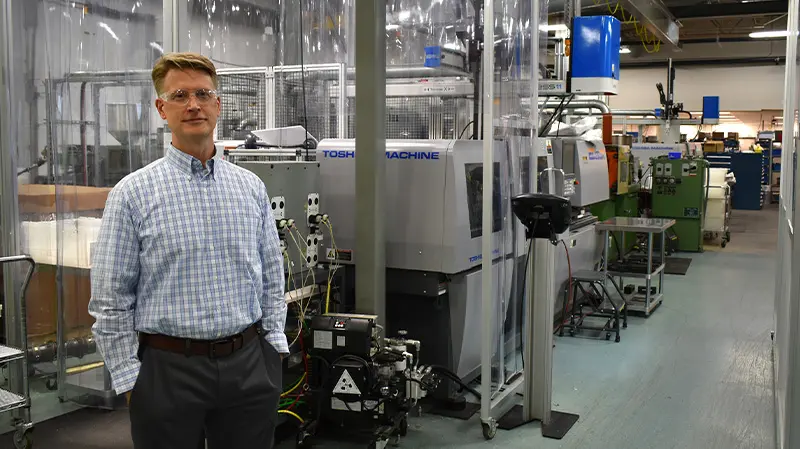 Fluoropolymers, first developed in the 1930s, are high-performance plastics made up of strong carbon-fluorine bonds. Their unique molecular structure makes them highly durable and resistant to high temperatures, harsh chemicals, and electrical currents. The first fluoropolymer was Teflon, discovered by accident by a scientist working in the DuPont laboratories. Fluoropolymers are used in a variety of industries such as aerospace, automotive, electronics, and medical applications. At the same time, fluoropolymers can be expensive; products made with fluoropolymers tend to be highly niche in nature.
As fluoropolymers developed, a Florida-based company called Fluoroware was launched to cash in on the new phenomenon of fluoropolymer processing. Among the individuals who launched that company was Russ Saville, who upon seeing some unmet needs in the burgeoning fluoropolymer market, broke away from Fluoroware and started his own company, Savillex.
"He took his last name and put an 'x' on the end of it to make it sound a little more 'sciencey' or a little more techie," says Harding. "And I think he was successful. It kind of does. And that really is where our journey began."
For nearly 50 years, the product line at Savillex remained the same. Chief among the company's manufacturing priorities are its Savillex Purillex® containers, including bottles, vials, and jars. Harding says they are the only fluoropolymer containers specifically designed for life-science applications such as autologous cell therapy, bulk drug storage and transport, and formulation stability testing and storage. They are produced in an ISO Class 7 cleanroom.
Savillex also offers custom services such as injection molding which, when dealing with fluoropolymers, can be tricky. Given fluoropolymers' high melt temperatures, and because of the corrosive gases emitted during molding, injection molding with fluoropolymers presents a challenge few manufacturers attempt to meet. Additionally, the company offers stretch blow molding and claims to be the only manufacturer in the world to stretch blow mold fluoropolymers.
"We have deep expertise in material-handling solutions, and our goal is really to find ways that we can bring that expertise to bear," Harding says. "How can we help people do what they do better?"
Savillex's managers have big dreams. They're experts at providing high-end products that serve a niche clientele, but they desire to branch out.
Users tend to avoid fluoropolymer products because they are exotic material and quite expensive, Harding says. "So, we can't compete on cost or price compared to commodity materials that you might find in a retail setting. If you go to Target or the grocery store you see plastic everywhere. You're never going to see fluoropolymer there, though, because those use cases just don't call for that."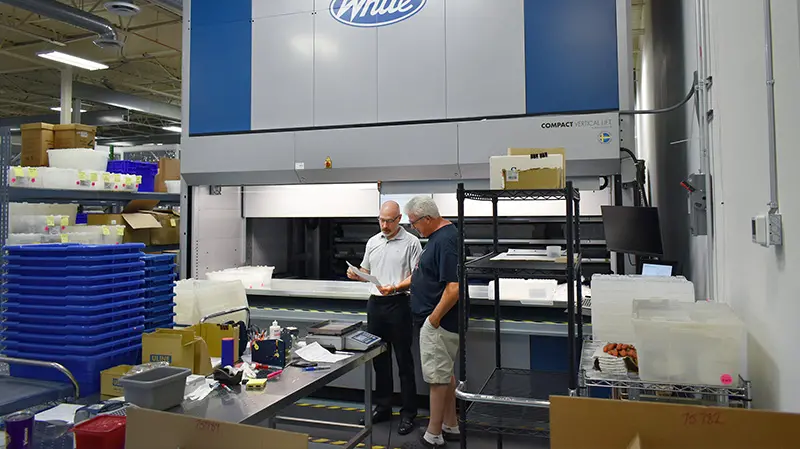 Savillex is about to bring a third manufacturing facility online that represents its attempt to reach a wider customer base that doesn't require bottles or vials made with fluoropolymers. "We are aggressively pursuing life sciences business opportunities," Harding says. "Users have needs, and we can't fully address those needs with fluoropolymers alone. How do we offer other containers out of other materials that address a wider band on that use case? We're relative newcomers to it compared to our 50-year history, and that's one of the reasons why ISO certification was important."
Harding adds that an ISO certification would keep them in the mindset of doing things the right and smart way.
The man who took the lead on guiding Savillex through the process was John Beauchamp, Savillex's quality assurance manager. He says that as the company aspired to penetrate medical device and pharmaceutical companies, it needed to "up their game," as many of those customers either overtly require certification or look more favorably upon manufacturers that have it.
"A lot of those businesses — because of the nature of their product applications — are highly regulated by the FDA, USDA or EPA and so on, and they're looking for suppliers that meet a high standard of product manufacturing," he says.
Savillex began its ISO process in March 2022 — with guidance from Enterprise Minnesota — by examining its quality management system for gaps and shortcomings that wouldn't pass muster in an ISO audit.
Among the changes it needed to make was implementing more robust documentation and nonconformance monitoring systems.
"One of the critical pieces of ISO 9001 for today is a required management review, which we put into place, and a continual improvement program, which is one of the pieces that was not formally in place when I came here," Beauchamp says. "A lot of good, solid foundational elements were in place. We just needed to add a few of those pieces and then bolster the others to fulfill the standard."
Before coming to Savillex, Beauchamp worked for a manufacturer that went through an ISO certification process. That experience made him the perfect choice to help Savillex navigate things smoothly.
"I was already aware of the benefits of those standards and operating in such a way to meet those standards," he says.
Reliable Bronze
At Reliable Bronze, a Stanchfield, Minn. manufacturer of bronze sleeves, bearings, and made-to-order components, a sea of change has been taking place recently. The previous owners, Charles and Linda Olson, ran the company from 1968 until August 2022. With a desire to retire, they sold the company to the Temple Hall Group, a Chicago-based, family-owned private company that invests in "best-in-class North American manufacturing businesses."
The Reliable Bronze website says: "It is a competitive world out there and we know everyone is vying for your business. We feel the difference between Reliable Bronze and our competition is that our philosophy is based on good old-fashioned values."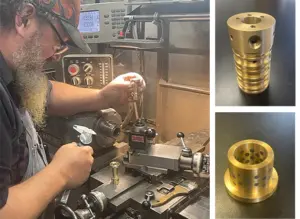 Old-fashioned values and work ethic helped Reliable Bronze survive and thrive for decades. Reliable Bronze CEO Kevin Herkner, who was hired by the Temple Hall Group to take the helm, says the company has hopes to double its output over the next three to four years. Herkner has set about improving the business with an infusion of capital, refining processes, and adding key roles and personnel to take it to the next level of performance envisioned by the Temple Hall Group.
"The business was absent of written processes, goals, objectives, and performance metrics," Herkner says. The previous owners built a very successful company doing things their way, but to make a leap in efficiency and profitability gains, investment and improvements would be necessary.
In prior roles, Herkner has brought Lean Manufacturing principles, quality management systems, and behavioral-based safety programs to portfolio companies to drive needed improvements. Reliable Bronze is currently going through the process of deploying an ISO 9001 quality management system and Lean Manufacturing programs. Herkner says the two methodologies, while distinctly different, complement each other. The Lean Manufacturing methodology helps reduce waste and elevate efficiency, and the ISO process, he says, is bringing a whole new level of purpose and consistency to Reliable Bronze.
To that end, Enterprise Minnesota has partnered with Reliable Bronze to help develop the ISO 9001 certification process. Keith Gadacz is the Enterprise Minnesota consultant helping Reliable Bronze through the ISO process.
"He's very energetic. I love the way he presents the material, and he's very passionate about it," Herkner says about Gadacz. "This works very well with our team, and you just feed off his energy."
Herkner says he had a goal of being ISO compliant by the end of the year and then have third-party certification early next year. But because Reliable Bronze has moved so quickly and has implemented Gadacz's recommendations, the company is now on pace to have everything completed by the end of the year. "I'm very, very pleased with the progress," Herkner says.
Herkner also attributes the speed of cultural adoption to the employees. It is both essential and common for a company's leaders to be engaged. However, having highly engaged employees makes this process that much more exciting. He says most companies in his experience are resistant to change. "It's just normal for humans to resist change. Typical responses are, 'I've always done it this way, why do I need to change?' That is not the case with Reliable Bronze." Herkner adds: "Every manager and employee here is like a sponge: wanting to learn, change, improve, and adapt. It is eye-opening, and it is refreshing. This is one of the most impressive organizations I have ever been in. The people make all the difference in the world. We are grateful to have the support of the team."
General Label
"Our name is very deceptive," says Mike Baskfield, president of General Label. It's a funny thing to say, but he isn't joking, he says. "We do everything except print labels."
General Label started out doing labels, of course. But as technology evolved and advanced and it became more profitable to print fewer labels and more, say, printed electronics and tactile membrane switches, the company followed the tech. And the money.

"We're in the permanent graphic business," Baskfield says. "If you have a piece of equipment that goes outside or is meant to last for a long time, we do things like compliance labels and warning labels, overlays like what you see on your copiers."
When you feed a dollar bill into a soda machine and punch the Dr. Pepper rectangle, there's a tiny push button behind it, electronically helping the machine dispense the soft drink of your choice. If you purchase a Graco spray paint machine, there's a good chance the membrane switch inside is a General Label product, as are the product name and safety warnings and instructions. In a medical incubator, where all components require sterilization, General Label printed electronics will be in the control panel. The company is also developing a backlit LED product to make the instructions on automatic electronic defibrillators easy to follow regardless of language.
Several factors pushed General Label to pursue an ISO certification. First, customers were asking for it. Second, while the company already had a decent quality management system in place, the system wasn't as robust, thorough, or complete as ISO. It was modeled after ISO, but company leadership decided it was time for the real thing.
"For years everybody was asking, 'Are you ISO approved?' And we would say, 'Our quality program was built off ISO, but we're not approved,'" Baskfield says. "And that worked for a long time. But as we continue to modify our customer base and go after more difficult jobs and difficult customers, their requirements are higher also."
Sumit Mahajan led General Label's efforts to secure ISO certification. He says going through the process spurred the company to adopt business intelligence tools that can produce important data quickly, allowing them to adjust staffing levels on the fly or analyze customer satisfaction scores.
That quick access to data also helps improve employee morale, he says.
"Getting that transparency in the system — in the shop as well as in the front office and with leadership so that they have a dashboard view where they can understand what's going on — is one of our first projects. And that initiative came from the ISO process."
And General Label is already seeing benefits. The company reduced scrap material by analyzing training, process, and material usage.
"We started working on the processes for that area, and we realized that either it's a process issue or it's a training issue," Mahajan says. "We saw our scrap rate on our monthly KPI report go from $25,000-$30,000 down to $8,000-$5,000."
Return to the Fall 2023 issue of Enterprise Minnesota® magazine.