Despite unprecedented uncertainties that continue to roil the COVID-era business economy, the 2021 edition of the State of Manufacturing® survey has revealed that Minnesota's manufacturers are far more optimistic about their companies' prospects than they were after they experienced the first wave of the pandemic.
Fully 51% of manufacturers expect an increase in gross revenues for the coming year — a stark improvement over last year, when just 21% expected an increase.
"It's a remarkable turnaround in expectations," says Bob Kill, president and CEO of Enterprise Minnesota. "The worker shortage, supply chain uncertainties, and unstable pricing could provide challenges. But most manufacturers seem confident they can overcome factors that might constrain their path to profitable growth."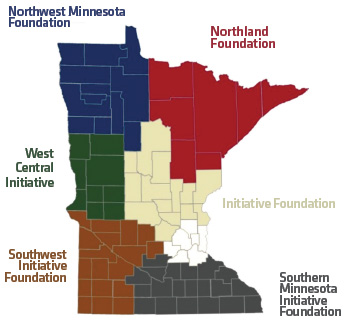 More than four in 10 manufacturers (41%) expect to see profits increase as well. That's 17% higher than last year. An increase in capital expenditures is anticipated by 44% of survey participants, a 19% jump from 2020.
In addition, the COVID effect has meant a huge spike in the number of executives who are concerned about attracting employees. It has also meant that employers are spending more on salaries and benefits. Capital expenditures are at a historical high.
Pollster Rob Autry and his team at Meeting Street Insights, a survey research company, interviewed a random sample of 400 Minnesota-based manufacturing executives from Sept. 8 to Oct. 7, 2021. The survey was limited to owners, CEOs, CFOs, COOs, presidents, vice presidents, and managing officers. It has a margin of error +/-4.9%.
Autry added an "oversample" of 50 manufacturer interviews in each of the six Minnesota Initiative Foundation regions (shown in Figure 1).
As in other years, Enterprise Minnesota complemented its State of Manufacturing research by conducting 13 focus groups from Sept. 14 through Sept. 30, 2021. Of them, nine were held via Zoom, four were in person.
Kill says the 2021 focus groups revealed extraordinary insights into the survey's data. "The survey delivers objective hard data about what manufacturers think about their challenges and opportunities, but the focus groups show us why they feel the way they do.
"Our focus group participants have become remarkably candid."
An optimistic outlook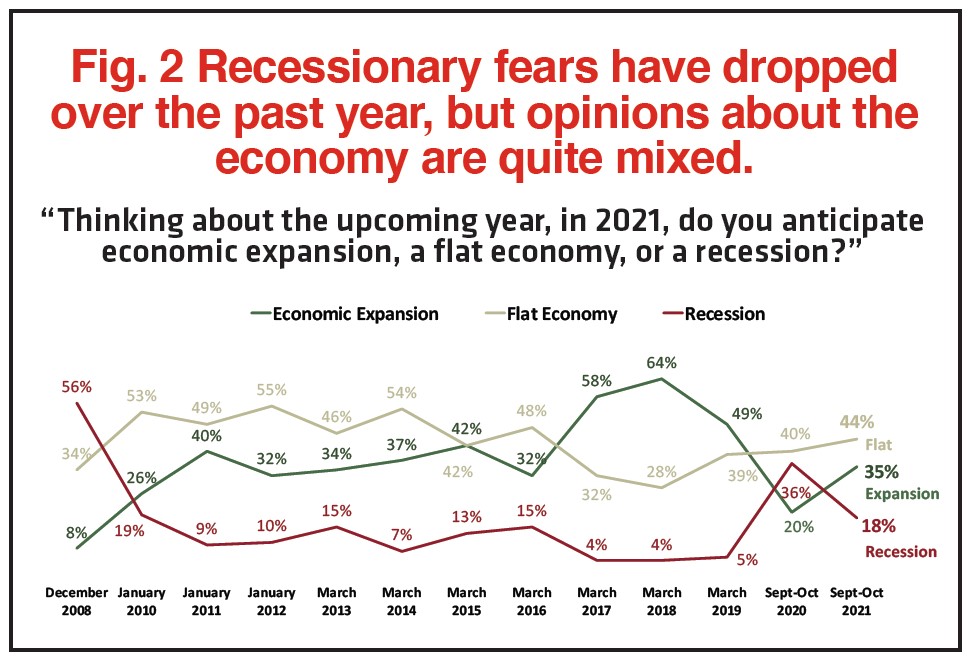 Manufacturers remain confident that their companies will continue to succeed, with 87% saying they were optimistic that their companies would continue to do well.
Fears of a potential recession on the economic horizon dropped to 18%, or exactly half of the respondents compared to last year's survey who said they feared a recession. Forty-four percent predict a flat economy in 2022, while 35% anticipate economic expansion. That compares to 20% in the previous year.
The COVID-19 effect lingers
Almost all manufacturers (94%) say COVID-19 had an impact on Minnesota's economy and business climate, similar to last year when 92% thought the pandemic had a negative economic impact on the state. In both years, about two-thirds of manufacturers characterized the impact as "major."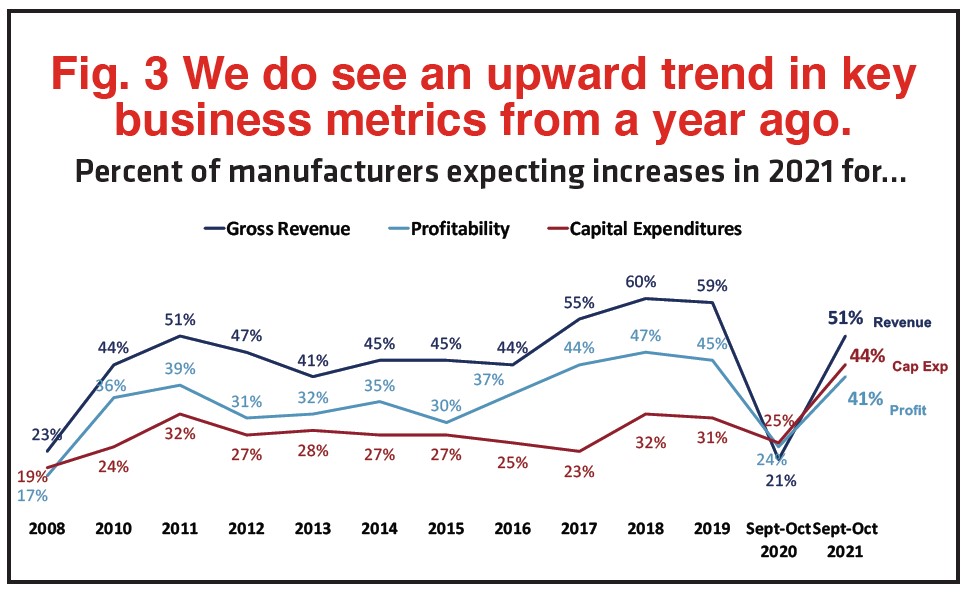 Manufacturers in northern and western Minnesota thought it was slightly less impactful: 88% in the northeast, 87% in the west and 85% in the northwest.
Companies are evenly split (48% to 48%) on the long-term negative impact they believe the pandemic will have on the economy.
A whopping 69% of respondents reported that their companies are not instituting or planning additional safety measures or changes in production practices because of COVID-19 and the Delta variant. Companies with revenues less than $1 million are less likely to take additional measures (78%). Companies with revenues greater than $5 million are most likely to require vaccines (14%).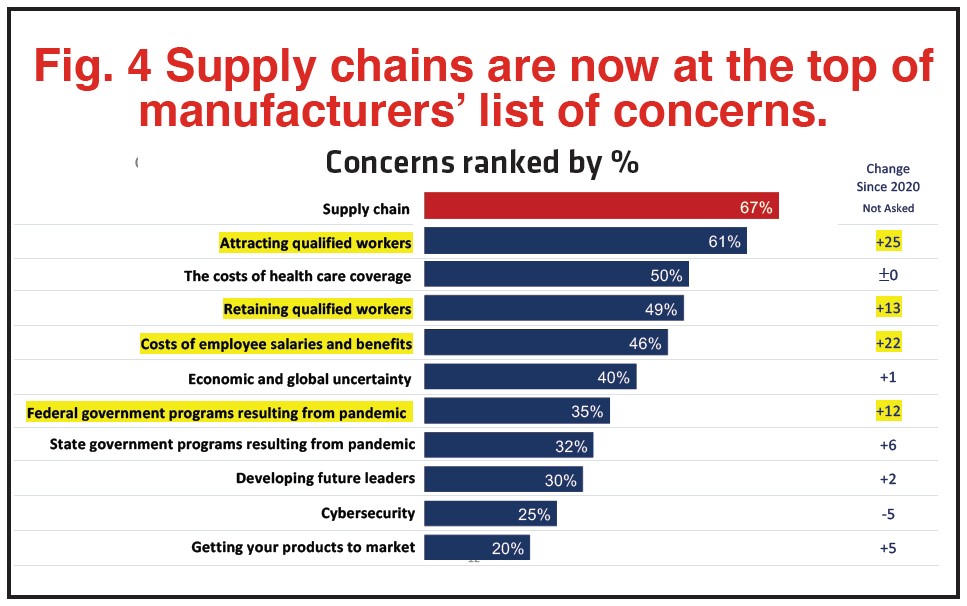 Thirteen percent of manufacturers require masks for unvaccinated employees; 12% require masks for all employees; 8% require employees to get the COVID vaccine; and 6% offer incentives for employees who get the vaccine.
Heartburn issues
The survey asked manufacturers to rank the factors they fear most in 2022.
At 67%, the supply chain topped the array of factors that concern Minnesota's manufacturers. That issue is new to the list. Regionally, the supply chain occupied even greater concern in the northwest and the southwest (75% of respondents in both regions listed supply chain issues as their major concern).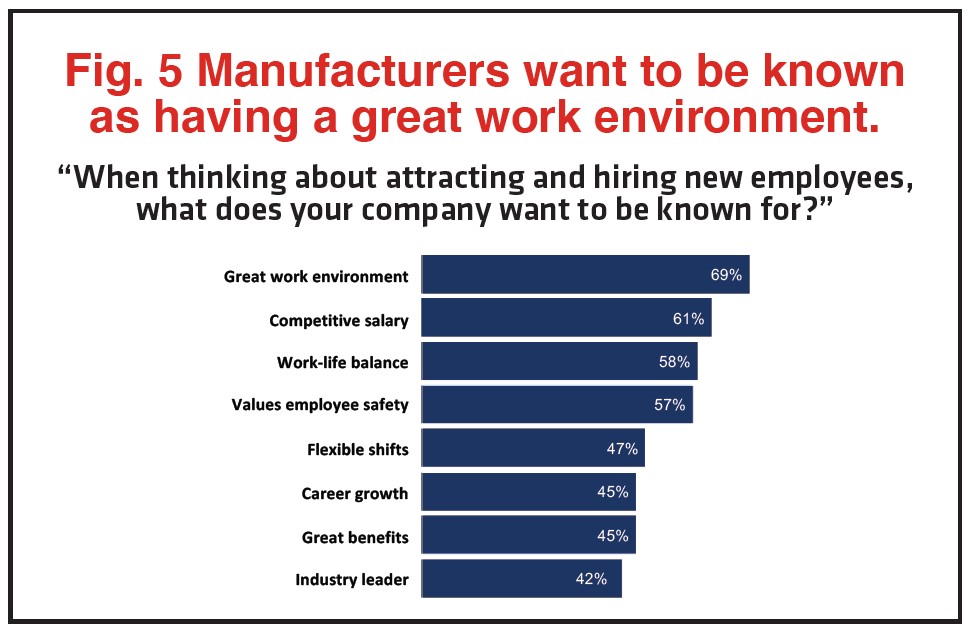 Worker shortages are also listed among manufacturers' anxieties. Attracting qualified workers was named by 61% of respondents. That's a 25% rise over last year's poll responses. Retaining workers was chosen by 49%, which is a rise of 13% over the previous year. The issue appears most chronic in the west central region, at 73%.
Employee salaries and benefits are a concern for 46% of respondents, an increase of 22% over 2020.
Respondents also mentioned government pandemic-related programs ending as a source of concern: 35% for federal programs and 32% for state programs.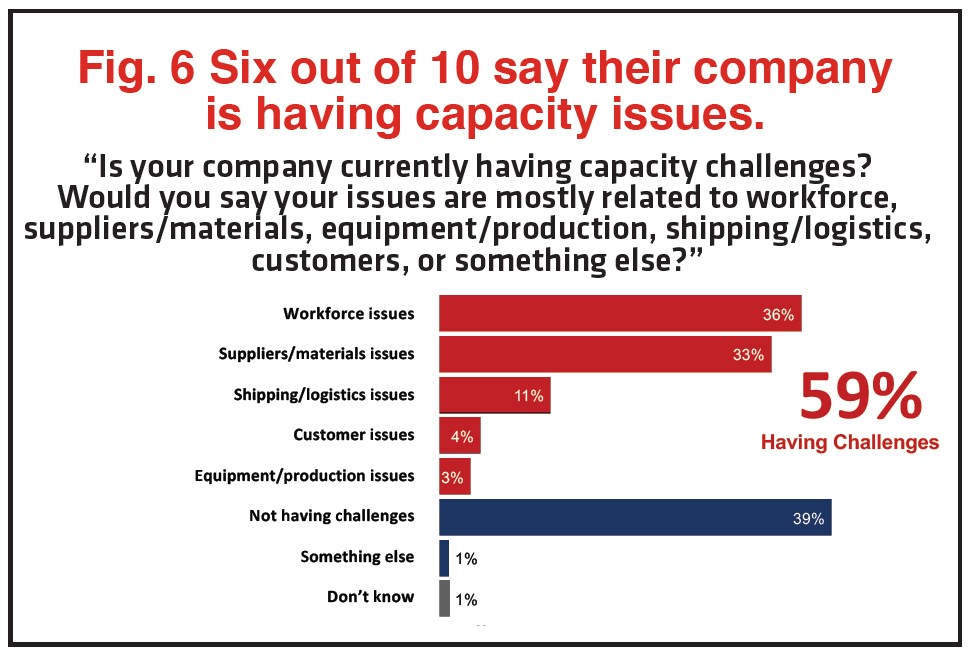 A shortage of workers rocketed to the top when respondents were asked which of the challenges is most likely to impact future growth. It was listed by 50% of manufacturers, which is 18% more than in 2020. Large companies are most worried about the availability of workers, making the top concern list of 69% of companies with revenue greater than $5 million and 73% by companies with more than 50 employees.
At 48%, the increasing cost of materials came in a close second and was slightly more of a concern for small companies.
The cost of health insurance, which has been a major concern for many years, dropped 17 points to 9% in 2021.
Growth
Six out of 10 executives say their companies are experiencing capacity issues, with workforce issues as the top reason (36%), followed by supplier/material issues (33%), and shipping/logistics issues (11%).
Similarly, 50% of manufacturers say that hiring new employees will be the most important driver to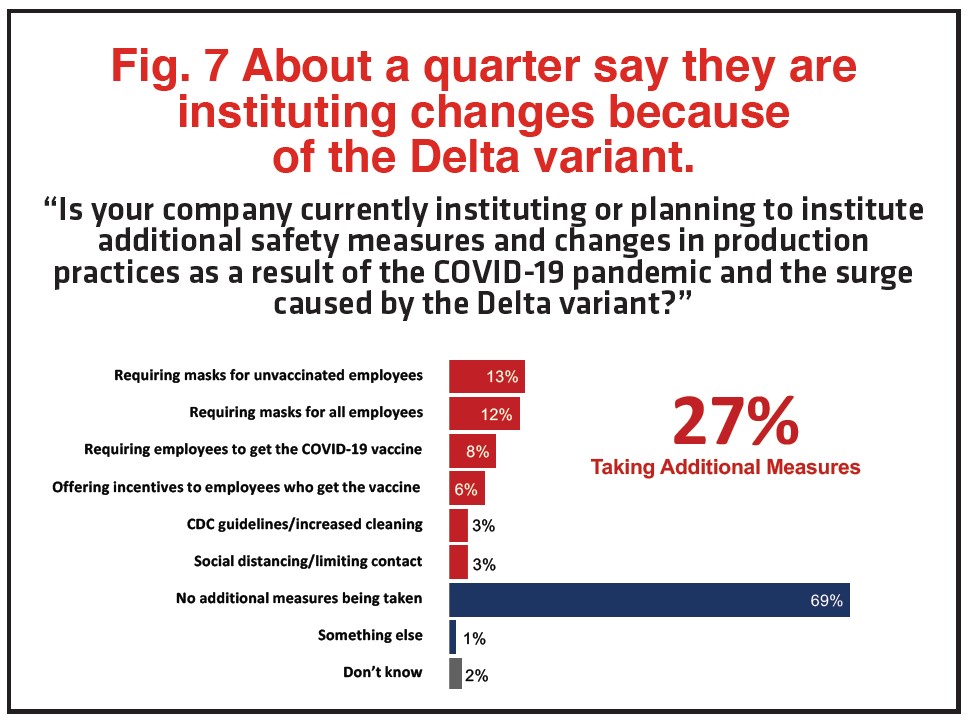 growth. Finding new customers was named by 38%, which is a decrease of 21% from the 2020 survey.
Most manufacturers (62%) say they have unfilled positions at their companies. Eighty-seven percent say they are having difficulties attracting candidates (55% say it's very difficult; 32% somewhat difficult).
Cybersecurity
Most manufacturers are relatively unconcerned about the rise in cybercrimes.
Only 15% say their company has been hacked or experienced a breach of some kind.
Similarly, 84% feel their company is secure from hacking, data breaches or other technological threats. That level of confidence falls to 74% among companies that have had a breach. The number rises to 86% for companies that have not experienced a breach.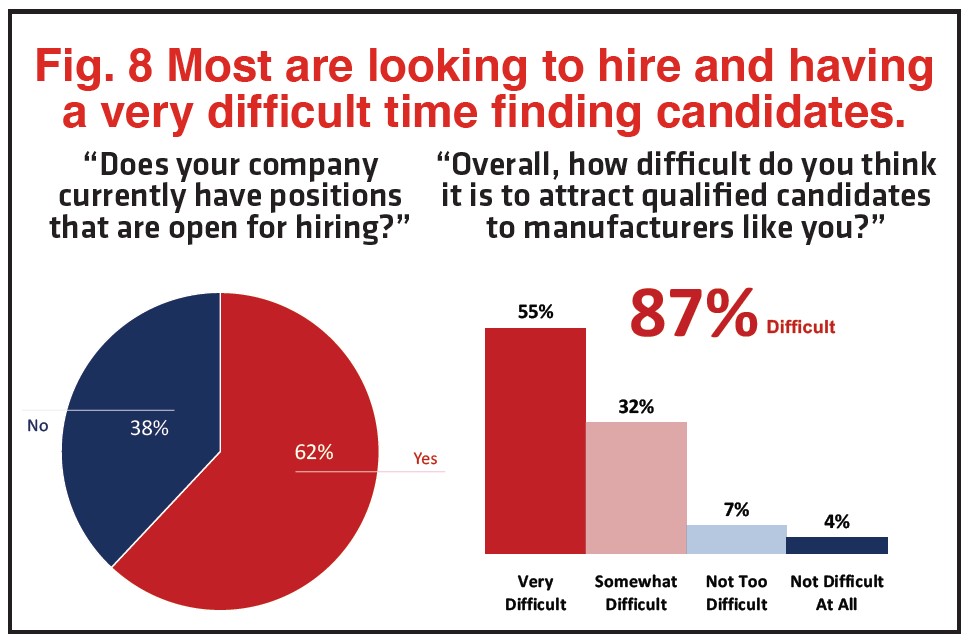 Other issues
More manufacturers than ever (55%) say they work from a formal strategic plan.
At 50%, the number of manufacturers who have a succession plan has dropped down to its lowest level yet.
Manufacturers believe workplace reputation is their strongest attribute to recruit new employees: 69% listed "great work environment" as their top aspiration. That was followed by "competitive salary" (61%); "work-life balance" (58%); and "employee safety" (57%).
A majority (46%) of manufacturers believe Minnesota's business climate is worsening. They believe that has been an alarming trend that began in 2019, when only 15% agreed. That number grew considerably in 2020, to 35%.
…
Featured story in the Winter 2021 issue of Enterprise Minnesota magazine.