Long before Jo Reinhardt took over Industrial Louvers, she had goals. With a plan in place to achieve them, she became a key leader in her family's business. But she had to overcome low expectations to get there, including some from her own family.
Reinhardt is the CEO and president of Industrial Louvers, a metal louver manufacturer based in Delano. In her leadership role, Reinhardt is responsible for the company's strategic planning and operations.
As a leader in the industry, Reinhardt's accolades include the Lifetime Achievement Award from the National Association of Women Business Owners, the group's Gold Eclipse Award for Outstanding Company Culture, and the 2014 bronze award for Manufacturing CEO of the Year from Twin Cities Business.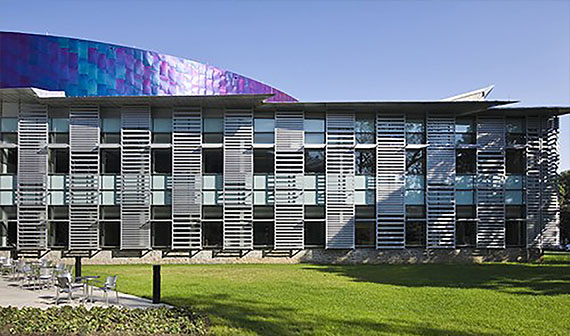 A pattern of family leadership
Industrial Louvers started in 1971 as part of Louver Manufacturing. The parent company manufactured commercial, residential, and industrial metal louvers. But its industrial division was struggling, and the company was relocating from Eden Prairie to Little Rock, Ark.
A small group of investors, including Reinhardt's father James Sterriker, bought the company. After the sale, they opened the plant in Delano.
In 1982, Sterriker's then 28-year-old daughter Reinhardt applied for a job. She was hired for a six-month position as a part-time drafter, which then led to a career with the company in different positions — and Reinhardt recognizing changes to the company's traditional manufacturing views were needed.
"I thought that lack of change was hurting business," she says. "Sometimes it felt like pulling teeth to get management to accept new ideas."
In 1988, Sterriker started cutting back his role with the company and announced his retirement. While Reinhardt hoped to obtain a leadership role to make the changes she felt were necessary, her father didn't think she was ready for the responsibility. Instead, he promoted another advisor.
Sterriker also decided his daughter needed more training to lead the company. While she had strong analytical skills, Sterriker felt she had issues relating to people. To prove her father wrong, Reinhardt completed a degree in operations management and took communication classes.
Reinhardt continued working at Industrial Louvers while in school. She moved into the marketing department and helped the company develop its first website.
After 11 years, the company needed another president. Sterriker still didn't think his daughter was ready, but Reinhardt's mother felt differently and convinced him she was. Reinhardt took over the CEO and president role in 1999.
To this day, she remembers her father's advice that she'd have to work twice as hard as everyone else to prove herself.
"I always felt I had a lot to prove, especially to my father," she says. "I never thought he believed in me until around 2006. I had to earn his respect and confidence."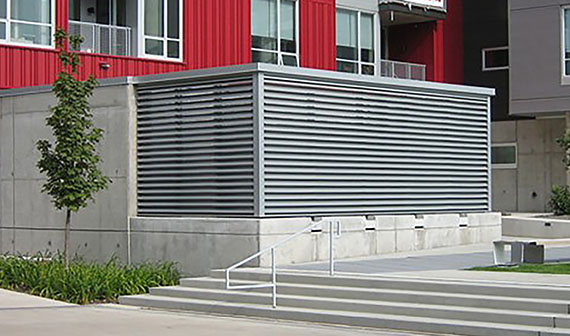 A plan to improve the business
By 2014, business was growing. Reinhardt was ambitious, optimistic and had a vision for the company, but it still needed help.
Julie Amundson, the director of operations, called Enterprise Minnesota to conduct a lean manufacturing review.
According to Amundson, Enterprise Minnesota's role as a neutral third party was important. The organization identified aging equipment to replace, drafted a 10-year plan to double the company's revenue — which included changes to machinery — and detailed out needed changes and updates to focus on sustainability.
Industrial Louvers stopped using chromium-based pretreatments in the painting process and other harsh chemicals too, which aligned better with the company's more intentional environmental practices.
Other changes included a major addition to the Delano building. The company spent $7.5 million to add a 40,000-square-foot paint and finishing space for Vetra, Inc., an architectural metal finishing company and an Industrial Louvers subsidiary that shares the Delano plant. The size of the building grew to 110,000 square feet and now includes a rainwater collection system on the roof that fills 60,000 square feet in underground storage. The system filters the water via reverse osmosis to improve Vetra's wash process. It also reduces the company's draw on municipal water lines.
Improvements were also made to the manufacturing floor after inefficiencies were identified that contributed to a waste of money and time.
"We reduced our workforce by 20%," Amundson says, "and we did it through natural attrition."
The COVID-19 pandemic created challenges in shipping and transportation, according to Reinhardt. Lead times with longtime suppliers went from three weeks to as long as six months.
Reinhardt says they are looking at ways to adapt that deal with the pandemic disruptions.
"Making the needed changes won't be easy," she says, "but we'll look at our processes and see what we can do to improve."
…
Featured story in the Winter 2021 issue of Enterprise Minnesota magazine.