For the past several years, growth and diversification have been key goals for Central McGowan (CM) in St. Cloud. Since 2014, much of the company's growth has come in the field of automation, and the timing couldn't be better. As the need for automation grows, CM's automation department is meeting those needs and finding solutions for manufacturers across the U.S. and beyond.
From a small welding supply shop to a distributor of gases and supplies to an automation unit, the company has grown exponentially in the past several decades. Today the 76-year-old company includes three distinct business units: Automation, Distribution (industrial, welding and medical), and CO2 Solutions, all three providing an ever-increasing range of products and services.
Joe Francis, president and CEO of Central McGowan, sees the value of continuing change and growth. "Our acquisition pace may seem out of character for a more established, traditional 76-year-old company like Central McGowan, but I've always likened Central McGowan to more of a startup," he says. "We're growth-driven and entrepreneurial with an opportunistic mindset; it's in our DNA. The key is having the right people, tools, technology, and talent to seek out and identify opportunities, then effectively integrate and optimize operations at the same time."
The roots of a family owned and operated business
Central Welding Supply opened in 1947 and merged with McGowan Welding of Little Falls in 1965, creating Central McGowan. The company sold and distributed everything from welding machines and safety equipment to gases needed for welding and other industrial purposes.
The incorporation was also the beginning of what is now a third-generation family-owned business, going back to the early 1950s when Leo Henkemeyer (Joe Francis's grandfather) first joined Central Welding as a salesman and later became sole owner. By this time, the company had already added a distribution center for welding supplies and a wide range of gases for industrial and medical applications.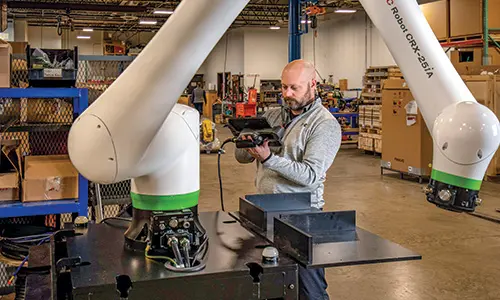 In the mid-2000s, Cindy Francis, Henkemeyer's daughter, took over as CEO and created a management team to help support her. Joe Francis became president and CEO in 2016, setting in motion the third generation of ownership and seven years of steady growth and diversification through acquisition.
Today, welding supplies include a comprehensive selection of products for MIG, TIG, plasma arc, stick, and laser welding. Julie Berling, vice president of marketing and communications, says the company's dedicated sales specialists introduce interested buyers to the newest technology in welding by providing demonstrations of laser welders.
"We added laser welders to our product roster a little over a year ago," Berling says, "and according to our supplier, IPG Photonics, we currently rank #4 in the nation for sales volume of their IPG LightWELD machines." Since launching ColdZERO dry ice products (blocks, nuggets, and rice) in 2018, CM also works with local rental companies and their partner Cold Jet to offer demonstrations of dry ice blasting. CM continues to grow its welding and distribution unit, has acquired several related businesses, and has added CO2 solutions and carbonated beverages. But it is the company's emergence into automation and robotics that has extended its customer reach nationwide and worldwide.
CM's Automation Center finds creative solutions to manufacturers' labor shortages, ergonomics, and safety issues. It also helps businesses deploy automation to increase production and cost effectiveness.
Dean "JR" Kiffmeyer, CM's vice president of business development, has worked for the company in a variety of capacities since 1996. He says Central McGowan has been involved in automation for several years with the sales of robots through its welding supply stores. "We sold canned cells from Lincoln Electric and FANUC, pre-made robots. We may have offered some customization, but Central McGowan didn't do any of it; we were basically a reseller."
Kiffmeyer says CM is always looking for complementary businesses to help diversify and differentiate the company. The purchase of Pro-Fect Automation in Little Falls in 2016 enabled CM to expand into all areas of automation.
Kiffmeyer served as vice president of automation while the company searched for a qualified and experienced leader. In 2019, Pete Rogers joined the company as president of automation. Rogers's experience and passion for the job has moved CM's Automation Center forward, and the momentum continues to grow.
The automation plant in St. Cloud is a robot-filled space where innovative solutions to manufacturing challenges happen. Here, white FANUC cobots (collaborative robots) are hand-trained for specialized tasks, while various sizes of yellow industrial FANUC robots wait to be programmed.
Rogers, a graduate of Central Lakes College (CLC) in Staples with 17 years of experience in automation and robotics, leads a team of 14, including two mechanical engineers and two electrical engineers. Many of Rogers's team members are also CLC graduates.
When a client approaches CM, an Automation Center representative meets with the client to assess the company's challenges. Next, CM engineers come up with a concept for a solution. Tech-savvy sales staff then put together a detailed project quote for the customer.
At any given time, the shop has 20 to 24 projects in progress. (A 25% increase from 2022 is projected for 2023.) The timeframe for completion of an automated solution varies greatly depending on the complexity of the challenge, but from the initiation of a project to its design, testing, and installation, the process usually takes 10 to 60 weeks or more.
Orders are built and tested on site, then disassembled, packaged, delivered and reassembled on the customer's site.
"Robots can be programmed to do virtually any task," Rogers says. "The sky really is the limit." The most common applications include palletizing, general material handling, and machine tending and welding, using either cobots or industrial robots.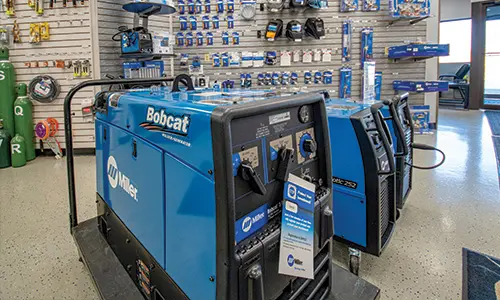 On the floor of the automation shop, Rogers points out an automated system designed to test 55-gallon plastic barrels for air leaks. The system moves four barrels along a conveyor, fills them with compressed air, and tests them for leaks. This particular system, when completed and tested, will be disassembled, packed up, and shipped to Taiwan where CM installers will set it up on site. Rogers says this is CM's third project to go to Taiwan. CM has done business in South Korea as well.
Toward the back of the shop, three small yellow FANUC robots wait to become part of a system that will assemble five pieces into one for a medical company. A fourth much larger robot will be programmed to polish a part for a foundry.
At another workstation, crew members test a white FANUC cobot. Rogers points out the cobot's touch pad, with icons for various functions that look similar enough to what people see on their smartphones or tablets. "Training" a cobot is less intimidating than working with the specialized button-pushing computer syntax needed to program industrial robots.
"Every project, every job is fun in its own way," Rogers says. "Each one presents a unique problem to solve. As engineers, we love that." One of his personal favorites was designed to build pallets, "due to its multiple processes and degree of accuracy and speed requirements."
On the floor, an A-frame structure is loaded up with pallet boards on both sides of the frame, which is then mounted onto a rotating base. A yellow industrial FANUC robot equipped with two pneumatic nailers quickly and accurately nails together the boards of the pallets.
Sensors on the perimeter of the workspace alert the robot to anyone or anything crossing the line, which then shut down the process, an important safety feature. But the primary advantage is the repetitive jobs the robot performs that would soon become tedious and tiring for human workers.
Where once there were concerns about robots taking over people's jobs, the situation today is not the same. "In the current labor market where any one worker has his or her choice of many jobs," Rogers says, "no one is lining up for work as a nail-gunner."
Problems that can be solved with automation
Labor shortages have led many manufacturers to automation. According to a white paper report on CM's website, manufacturing jobs account for only 8% of the job market, but with existing labor shortages and projections that 27% of those manufacturing workers will retire by 2029, the demand for additional automation will only grow.
Add to that shortage the rising costs of wages, benefits, and injuries that lead to loss of productivity, to say nothing of medical bills and disability claims, and it's difficult to maintain production without automation. Robots don't require health insurance, sick leave, vacations, or a daily or weekly schedule; they can operate around the clock and eliminate repetitive, potentially dangerous, and injury-producing tasks that negatively affect human workers.
The FANUC robots in the CM Automation Center run smoothly and accurately and are reliable and easy to use, Rogers says. "They're guaranteed to be maintenance free for 8 years — when other brands may need to be replaced."
He says COVID-19 spiked the demand for automation solutions. "COVID caused manufacturers to ask, 'What must we NOT shut down?'"
With pandemic and labor issues from the end of 2020 through 2022, CM had trouble keeping up with requests for automation, and, although they have leveled off, demands are still great. Before COVID, Rogers says, a two-year return on investment was comfortable for both the customers and the banks. "There's less emphasis on that today since labor shortages continue to escalate. No one wants to stop production, and labor and benefits are expensive when workers can be found," Rogers says. "Automation's main focus is not replacing workers; it's about upskilling the workforce — moving people into higher-value roles that require a human touch while filling labor gaps and allowing the repetitive, dangerous work for the robots."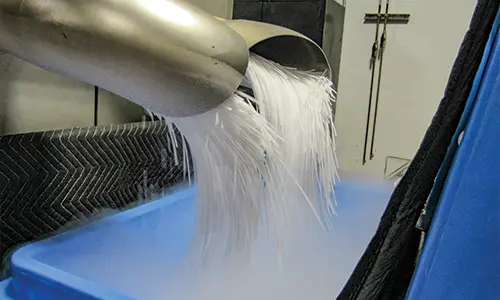 Another vital component to his job is providing clients with the best advice. CM's Automation Center advises clients to consider what tasks would be best to take away from workers — repetitive, dangerous, ergonomic, health-related — so that the workers can be used elsewhere while robots complete those tasks. "Smaller, simpler tasks might be best to automate first to free up the employees you have," he says. Then those employees can be trained to work with the robots or work at other more value-add jobs.
Requests come from a variety of places, but, Rogers says, "Regardless of the industry, we're almost always seeking to automate some sort of manufacturing or assembly process. We're working with manufacturing processes across a wide spectrum of industries — from makers of industrial or agricultural equipment and construction to aerospace, medical, and trailer and recreational equipment and accessories. Automation casts a very wide net of opportunity."
CM's Automation Center is experiencing an uptick in interest from smaller businesses. Rogers says, "We love helping the smaller companies who struggle to find enough employees to fill openings and to bear the costs of benefits, medical claims, overtime, etc. Our largest challenge is fitting robots into environments with a job-shop mentality — meaning that their processes are very diverse and lower volume. Not surprisingly, this is exactly where a lot of the automation innovation is currently being focused."
The future of CM?
"Our diversified businesses include distribution, automation and CO2, which allow us to cast a pretty wide net when it comes to looking for opportunities," says CEO Joe Francis. "I believe there will be more acquisitions down the road; it's just a matter of when and what market, what type of business. We are looking at investing back into the business with physical assets and people."
That culture of investing in people rings true for Kiffmeyer, who says that he has never asked for a raise or a change of position in his 27 years with the company, but that the Henkemeyer/Francis family has recognized his strengths and has presented him with opportunities.
Julie Berling lets the past predict the future. "Major transformations that began in 2011 have taken the company from a 55-person, two-location welding supply company to the nearly 140-person, eight-location, diversified company CM is today," she says.
With five retail welding gases and supply branches in Mankato, Minneapolis, Little Falls, St. Cloud, and Fargo, including a state-of-the-art welder repair and service center in St. Cloud, four CO2 Solutions branches in St. Cloud, St. Paul, Fargo, and Des Moines, and a rapidly growing Automation Center in St. Cloud, CM's "supply" has plenty of demand from over 20 different industries across the U.S.
And Pete Rogers has no doubt about the future of automation. "Our automation area is growing nationally at an increasing rate. We have installs from coast to coast and see continued opportunity nationally. However, we remain focused around the five-state area and committed to providing service to our many gas and welding supply customers who have automation and robotic systems."
The recent purchase of another building adjacent to the 15,000-square-foot Automation Center in St. Cloud will ease some growing pains. "We don't have firm plans in place yet as to exactly what the new space will be used for," Rogers says, "but it will be built with the needs of our overall business in mind — which includes automation as well as our distribution and CO2 solutions business units — all of which are growing."
As for automation solutions, projections indicate that the labor shortage will only worsen. "Automation will be needed to fill the gaps created by those shortages so our customers can continue to compete domestically and internationally," Rogers says. "We see a very bright future ahead."