Enterprise Minnesota recently released its 12th annual State of Manufacturing® survey to a digital crowd of manufacturers and other key industry stakeholders. The results show that while Minnesota's manufacturers share broad, long-term confidence about their companies' prospects, they are strapping in for a tumultuous COVID-19-related economic ride.
Rob Autry, founder of Meeting Street Insights and Enterprise Minnesota's pollster, along with Bob Kill, president and CEO of Enterprise Minnesota, shared this year's data and fielded questions from the virtual audience on April 20.
"Small and rural manufacturers look like they are going to receive the most punitive effects of this downturn, depending on their industry and products," Kill said. "What we are seeing is similar to 2008-09, when manufacturers led the economy out of the recession. I expect them to drive Minnesota's economic recovery again."
What is unique about this survey is that the pollster conducted interviews both before and after President Trump's National Emergency Declaration concerning the novel coronavirus disease (COVID-19) on March 13.
Autry's team interviewed 400 manufacturing executives between March 2-23. Respondent titles included owners, CEOs, CFOs, COOs, presidents, vice presidents, and managing officers. The survey has a margin of error of +4.9 percent. Researchers completed 58 percent (N=234) of the interviews between March 2-12 and 42 percent (N=166) between March 13-23.
Among the results:
The Economy. Forty-six percent of post-COVID interviewees now expect the country to slip into a recession, while only nine percent thought so in the pre-COVID interviews. This anxiety stands in marked contrast to the robust forecasts of previous years. In March 2018, 64 percent of manufacturers predicted "economic expansion," and only four percent thought the U.S. economy was headed for recession. In 2019, those numbers were 49 percent and five percent, respectively.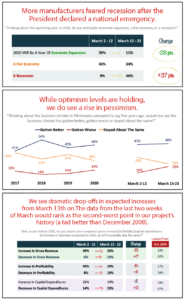 Revenue and Profitability. Post-COVID interviewees also expect to experience a decline in gross revenue (23 percent, in contrast to just six percent pre-COVID) and profitability (19 percent, eight percent pre-COVID). The March 2018 survey revealed that 60 percent expected an increase in gross revenue, and 47 percent predicted an increase in profitability.
Smaller manufacturers exhibit the most anxiety about the economic effects of COVID on their companies.
Forty-three percent of businesses with less than $1 million in revenues projected an increase in gross revenue before the government declared a national COVID emergency; just 26 percent showed the same confidence afterward.
Confidence dropped even more dramatically among companies with revenues of $1 million to $5 million. Their positive revenue forecasts dropped 20 percent after the COVID announcement. While a whopping 59 percent projected increases before COVID, just 43 percent thought so after the announcement.
Positive revenue forecasts dropped just five percent before and after the COVID declaration among companies with revenues greater than $5 million. Notably, however, the number of companies that projected decreased revenues increased from nine percent to 27 percent.
Capital Expenditures. Companies expecting to increase capital expenditures dropped from 26 percent to 24 percent, while manufacturers planning to decrease that investment dropped 12 points, from 26 percent to 14 percent; 32 percent forecast an increase in spending on capital expenditures. Again, the small business owners projected the most significant cuts to capital expenditures due to the COVID economy. While just seven percent of small companies anticipated a decrease in capital expenditures before the COVID declaration, that number increased to 33 percent among executives interviewed after.
Costs of Employee Health Care. Economic and global uncertainty topped manufacturers' lists of concerns, knocking out the costs of providing employee health care costs for the first time in the survey's 12-year history. While health care cost concerns remained constant (50 percent and 51 percent) in interviews before and after the COVID declaration, "uncertainty" jumped from 23 percent to 60 percent.
Visit the State of Manufacturing page to learn more. 
About the pollster
Rob Autry, founder of Meeting Street Insights, is one of the nation's leading pollsters and research strategists. The Meeting Street Insights team has over 25 years of combined public opinion research experience and 2,000 research projects under its belt. Autry has conducted all 12 State of Manufacturing® survey
…
Featured story in the Summer 2020 issue of Enterprise Minnesota magazine.