When cousins Steve Lewis and Dan Tall took over Lane Company, the family business, they joked about wishing for a boss to guide them on how to run it. Someone who had a plan for the company's goals and could tell everyone how to execute it.
Lewis and Tall eventually found what they were looking for. "We wished for a boss, but what we were really looking for was a business management system," Lewis says. "ISO was the system that made sense for us."
Some manufacturers continue to think of ISO solely as an international stamp of quality, but the emergence of ISO 9001:2015 offers much more. Manufacturers who achieve the newest ISO designation emerge with a business management system that helps define and accomplish company objectives. They have committed to continually improving their processes. They meet process efficiency standards and demonstrate that they can consistently meet customer and regulatory requirements. And, as many large customers increasingly require ISO certification from their suppliers and even from suppliers' suppliers, they realize that accreditation can also be a competitive differentiator.
"ISO isn't just about product quality," says Greg Langfield, a business growth consultant at Enterprise Minnesota. "It's really about the processes needed to make customers happy. ISO is very much a business management system—there's no one-size-fits-all, and different companies have different reasons for going after it."
Navigating COVID-19 with ISO
A business management plan is helpful when business is good, but it's especially critical during challenging times. ISO certified manufacturers across Minnesota use ISO to provide contingency planning and the mechanisms to strengthen the overall management of their businesses.
"ISO standards are built on risk and opportunities," Langfield says. "There are some businesses that are really concerned about where their growth is going to come from [during COVID-19], while others are super busy. In both cases, ISO gives them the structure to think through the process. Coming out of COVID-19, companies will need to be adaptable and flexible with their thought processes. Everything starts with having a strategic direction that focuses on customer satisfaction."
While manufacturers have different motivations for seeking their ISO certification, the ultimate results are improved processes that help them take advantage of opportunities and weather uncertainties. Though ISO provides the framework, the successful execution comes down to individual accountabilities and strong leadership that can turn a plan into reality.
Lane Company: Integrated approach is foundation during uncertainty
Doing something right is better than doing something fast, and that was certainly the case for Lane Company, a Minneapolis-based custom plastic product manufacturer.
Lane's initial path toward ISO certification exposed gaps in the company's processes. Its executives realized early on that they needed to lean up their approach. "Rather than try to build a system that didn't have the quality of lean coordination, we decided to integrate both approaches and do them at the same time," explains Steve Lewis, CFO and co-owner of Lane Company. "As a result, it took us longer to get ISO certified, but it created some significant benefits for the company."
"There are some businesses that are really concerned about where their growth is going to come from [during COVID-19], while others are super busy. In both cases, ISO gives them the structure to think through the process."
—Greg Langfield, Enterprise Minnesota
Lane used Enterprise Minnesota's Lean Thinking program to lean up its operation, while simultaneously working on its ISO certification. "The lean sessions and the ISO system together made the company stronger and accelerated its quality improvement and time to market," says Joel Scalzo, a business development consultant at Enterprise Minnesota. "These programs tend to be sequential for most companies, but Lane addressed both lean and ISO at the same time."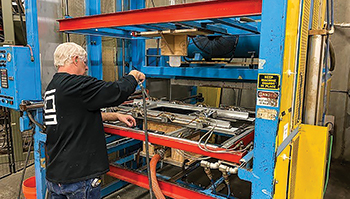 Lean and ISO have given Lane the integrated process and framework the company knew it needed. "ISO is a sales tool, but for us it was more than just being ISO certified," Lewis says. "Our main goal was to use it as a business management system. It gives us a way to accomplish our goals, measure what we're doing, and improve on it. With ISO and continuous improvement together, it's a way of documenting ideas and testing them."
Although ISO can be an ambitious undertaking, Lewis says it helps a company focus on the little things, which are often critically important. "If you focus on something, it will change," he says. "We needed to take care of the little things, and the big things will take care of themselves. ISO and continuous improvement give us the structure for doing these things consistently."
Lewis adds that consistency and structure have brought particular value during the COVID-19 pandemic. For example, weekly staff meetings and other consistent communication, he says, have helped dispel rumors and more clearly lay out plans for adapting to a challenging time. "Having dedicated time and consistency when it comes to communication with employees and among the leadership team has been really important," Lewis says. "In the end, our bottom line is better, and our decision-making is better."
H&B Elevators: Continuing the legacy
When Jashan Eison and Fred Poferl purchased H&B Elevators in 2013, they quickly realized that it can be a challenge to retain the legacy knowledge that lives within a long-standing company. Their 44 employees possessed a wealth of operational expertise, but it was mostly locked away in their heads and not easily shared with new recruits.
H&B is a Minneapolis-based manufacturer of elevator components such as frames, cabs and doors. The company's products are in buildings around the world, including U.S. Bank Stadium, the Burj Khalifa skyscraper in Dubai, and Yankee Stadium. As CEO and CFO, respectively, Eison and Poferl looked for a business structure that would enable them to share their knowledge and ensure the company's sustainability. At the same time, they were thinking about H&B's reputation domestically and abroad. "We needed something that would show customers we were serious about continuous improvement, training, sustainability, customer expectations, requirements and satisfaction," Eison says.
ISO certification answered the challenges. After a few attempts at implementing parts of the ISO process themselves, H&B leadership looked to Enterprise Minnesota for help.
Langfield says that ISO 9001:2015 is much more flexible in how it can be applied, compared to earlier versions. "ISO 9001:2015 is very business-friendly," he explains. "It gives you the structure to manage a business and the flexibility to make it fit; any business can apply it and see the benefits."
"Our leadership team learned that we have to be in sync and that the direction and push toward something have to come from the highest level."
—Jashan Eison, CEO of H&B Elevators
Scalzo adds: "ISO can fit a wide range of clients. One company might have four locations with 1,000 employees, and another company may have just five employees. If a standard doesn't apply to certain areas of a client's work, he or she doesn't have to spend time on it."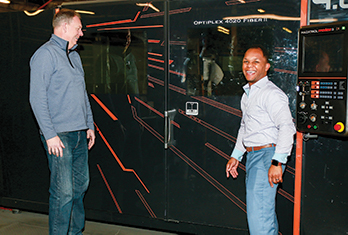 While larger organizations may assign ISO responsibilities to a quality control manager, small organizations don't have that luxury. Eison found that sharing the responsibility among his leadership team worked well—with careful planning. Certification required everyone to work together and think holistically; while the primary responsibility was with the leadership team, a designated individual was in charge of communicating internally to employees and externally to customers and partners about ISO. A senior manager coordinated the project, but decisions were made collectively by leadership.
"Our leadership team learned that we have to be in sync and that the direction and push toward something have to come from the highest level," Eison says. "We had to teach ourselves how to create a system for accountability. Today, that system is still strong, and the process and procedures are still relevant."
Eison says ISO has enabled the company to track reductions in costs for scrap and labor and more easily satisfy customer requirements. ISO has also provided H&B with a process for uncovering the root causes of problems on the shop floor and determining the appropriate corrective action.
As H&B responds to COVID-19, Eison says the ISO framework has been critical. "It's played a huge role in our preparedness and our ability to rely on systems," noting that the company's legacy knowledge is now documented, not merely locked away in people's heads. "Some people have worked from home; we're relying on them to understand and do things the same way as someone who used to be across the hall. So, we've relied on systems and documents we created; it's given us some comfort."
Northwoods USA: ISO propels growth
Most manufacturers with five people or fewer wouldn't consider ISO certification. Brian Hitt, founder and president of Northwoods USA, is an exception. An engineer who spent much of his past career in product development and working with suppliers, Hitt saw the impact of ISO certification first-hand and knew he needed it for his precision-engineered machining company.
"ISO doesn't magically make you a high-quality supplier," Hitt says. "It forces you to put the checks and balances in place to have a business management system and quality system that will help deliver a great product. It also opens a few more doors for customers who require ISO certification, and it would differentiate us from shops that do similar work."
Northwoods USA, based in Ham Lake, pursued ISO certification for both manufacturing operations and product design. The small size of his company forced Hitt to focus on essential business processes. He established procedures for accounting, HR, purchasing and other elements. Once those were in place, he worked with Enterprise Minnesota to create the documentation.
"Having established ISO guidelines and procedures set up the longevity of his company," says Dan Ball, a business growth consultant at Enterprise Minnesota who worked closely with Hitt.
"ISO doesn't magically make you a high-quality supplier. It forces you to put the checks and balances in place to have a business management system and quality system that will help deliver a great product."
—Brian Hitt, founder of Northwoods USA.
Hitt says the flexibility of the ISO process made it adaptable to Northwoods USA's reality, despite the company's small size. "It wasn't a challenge to adapt it," Hitt says. "If it added value to the business, we did it. If not, we didn't. We now have a lean and mean ISO business management system. It's the appropriate size for us and has the right structures and procedures in place to run the company."
Langfield of Enterprise Minnesota explains that ISO certification is like a book with the outline of a company story. It has the setting, the characters, and the direction, and it's up to leadership to fill in the details based on their needs and objectives. The resulting plan helps them follow a strategic direction while anticipating the risks and opportunities they may face on the journey.
Since earning the certification, Hitt recalls an aha moment regarding the alignment between ISO and Northwoods USA's approach to risk. When an employee alerted Hitt to an issue, Hitt called the customer and asked for approval to ship a particular product. "The customer approved the deviation, and that process strengthened our culture here, telling employees, 'If you have a problem, don't hide it.' It's important to have those culture-building moments," Hitt says. "As a risk-based system, ISO fits our business really well."
In the last 12 months, Northwoods has experienced only one non-conformance issue. "ISO helped strengthen our quality system so we can achieve near-zero defects," he says. "You need everyone thinking about the same priorities and aligning them—that's a force multiplier. We can do more with five people than others can do with 20."
Even amid the COVID-19 pandemic, growth is on the horizon for Northwoods. The company is expanding from a 5,000-square-foot facility to 12,000 square feet, and ISO's framework has helped Northwoods work through the COVID-19 uncertainty. Hitt reflects on it this way: "I look at ISO and think, 'What would happen if we hadn't done it?' That's a grim picture in my mind because without ISO, we wouldn't be anywhere near the level of execution, the risk avoidance, and the culture of where we are today."
Micro-Trak: ISO and EOS ensure continuity
The benefits of a business management structure are compounded when employees have a clear understanding of their roles and responsibilities. Micro-Trak, a manufacturer of electronics for agricultural systems and road maintenance based in Eagle Lake, discovered this when it became ISO certified shortly after implementing the EOS system.
EOS, or the Entrepreneurial Operating System, consists of concepts and tools that help companies improve their vision (getting everyone on the same page with goals and how to get there); traction (instilling focus, discipline and accountability around executing on that vision); and health (helping leaders become more cohesive and functional).
"ISO and EOS are standalone elements," says Dick Pedersen, a business development consultant at Enterprise Minnesota. "ISO brings a lot of structure to an organization in terms of problem-solving. It's a company-wide structure, not just a quality tool for the shop floor. EOS helps put the people in charge who will get the stuff done. It helps them get organized and gives clarity on responsibilities, especially if the company is thinking about succession planning."
"If you're thinking about EOS or ISO, my advice is: Do it."
—Steve Vogel, engineering manager at Micro-Trak
Steve Vogel, engineering manager at Micro-Trak, agrees. "Sharing tribal knowledge was a primary driver of getting ISO certified," he explains. Vogel had experienced the benefits of structure and consistency through his ISO experience at a previous employer.
"Micro-Trak has a lot of long-term employees—people who will be retiring—so we needed a structure for getting a person's knowledge into a process for anyone to pick up. That succession planning gave ISO certification a sense of urgency for us."
ISO processes documented the knowledge that had been locked in the minds of long-term employees and has positioned Micro-Trak to be more flexible in the face of COVID-19 uncertainty.
"It's all built-in now," Vogel says, explaining that if someone is filling in for another employee, that person can simply look up instructions for a job. In addition, Micro-Trak created an online technical forum where employees can submit questions or search for answers. "That consistency helps when employees need to pick up another job; they can do that more easily because they can fill in for others. That's been especially helpful when they're not in the same location," he says, referring to adjustments made during the pandemic.
Although ISO and EOS focus on separate areas of the business, the work done for EOS made the subsequent ISO certification easier and more efficient for Micro-Trak. "Part of the EOS process is defining the purpose, values and objectives of a company," Vogel says. "That's part of the management portion of ISO too. We were also already reviewing personnel and supplier performance, so we folded those into quarterly planning sessions. The core processes that EOS requires were already written. We just formatted them for ISO."
The value of both EOS and ISO has been especially apparent during Micro-Trak's busy season, when it uses temporary workers to augment the efforts of its 37 permanent employees. Before ISO, temp training varied depending on the supervisor training the individual. A standardized approach ensures that everyone receives consistent training.
Taking on EOS and ISO was a big step, but Vogel has no regrets. "Getting EOS done first helped a lot with ISO," he says. "It made the ISO process smoother because we'd already addressed communication and management, making it easier to cascade the messages down to others. If you're thinking about EOS or ISO, my advice is: Do it."
Ramping up for success
ISO is a living process that companies must revisit and refine, especially as they prepare to emerge from a challenging economy.
"When we start getting back to the new normal [after COVID-19], there will be a rapid expansion at all different levels and speeds," says Scalzo of Enterprise Minnesota. "We're envisioning that ISO will be essential during recovery. With the standard in place, you can show a much more trusted history of your quality and how you can change your process to fit a new client's needs."
Hitt of Northwoods encourages manufacturers to pursue ISO no matter the size of the company. "If you have a small business with good people, good values and good operating principles, and you want to take it to the next level, ISO is the right thing to do," he says. "It's an investment that will pay off for the entire future of the company—and keep your business growing and better prepared for situations like COVID-19. I would be worried if you didn't do the certification."
Dan Ball of Enterprise Minnesota adds, "We don't know what the new norm will be. So, for those companies that have credibly established procedures in place, they already have that foundation of strength that says, 'We can move forward.' There is going to be a wider gap for those companies that have ISO certification versus those that don't. You can't afford not to go through ISO certification now."
Learn about how Enterprise Minnesota can help your company gain ISO certification
…
Featured story in the Summer 2020 issue of Enterprise Minnesota magazine.