Most manufacturers have endured the uncertainties of the COVID-19 economy with at least some anxiety. For Danny and Shelly Boudreaux, owners of Cajun Custom Cookers, that anxiety lasted for three weeks. Now, business is booming.
From its Moorhead headquarters, Cajun Custom Cookers produces ultra-high-end portable outdoor wood cookers, created especially to withstand the frigid low temperatures of Minnesota's winters. You won't find them at Home Depot, though. The price tag on a home model starts at about $5,500; a fully-loaded commercial unit can exceed $50,000.
But owners Danny and Shelly say the cookers are well worth the price. The units will work at 40 below zero without requiring any outside insulation because the construction material is a quarter-inch thick. "We designed them to last forever," Danny says. "It won't rot through; it's not going to warp." Each unit, he adds, is "jam-packed with features."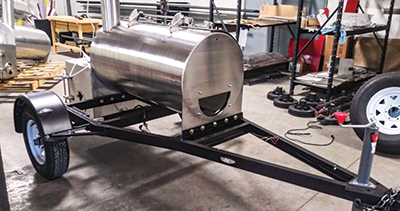 Unlike less robust units, the Cajun Cookers feature sealed doors that are replaceable and fully cleanable. Plus, the cookers have a patent that covers 25 unique features, according to the Boudreaux.
On top of that, the company's products are the world's only NSF-certified wood-fueled smoker. NSF, once referred to as the National Sanitation Foundation, certifies products for the foodservice industry similar to a UL (Underwriters Laboratories) rating. All equipment in a restaurant must be NSF certified, Danny says.
The only restaurant-quality alternative to the Cajun Cookers is a gas-burning cooker, that uses wood chips or liquid smoke to produce the flavor.
"We have a clean burn. Smoke doesn't come out of the chimney once these things preheat, and the food keeps the pink ring around it. You still taste the wood fire."
By early March, the Boudreaux's four-year-old company was outpacing even its most optimistic sales projections. As they disassembled their sales booth following a tradeshow at the nearby Fargodome, they recalled with amazement how just one California-based company had walked up to their booth and ordered four stainless commercial cookers at $32,000 each.
The future looked more than promising.
But then, a week later, President Donald Trump declared the nationwide COVID emergency that would ultimately grind much of the American economy to an immediate halt. In short order, all but a few customers canceled Cajun Cookers' once-intimidating backlog of orders. "We had a few hundred thousand dollars' worth of jobs lined up," Danny says. "We lost them all in three days."
Dumbstruck, he and Shelly watched as "the world went crazy. Everything shut down. We didn't know what was going to happen.
"For three weeks, we didn't do anything."
Just as quickly, and without notice, their representative from Jim Beam bourbon changed everything (but not in the way you might think). The Clermont, Kentucky distillery called on Danny to build a unit Jim Beam could use on the road to showcase its new barbecue sauce. It turned out the rep wanted several cookers.
"That was the start of it," Danny says.
Within a few days, other orders started flying in.
A high-end Minneapolis restaurant group—for whom Cajun Cookers had manufactured a massive food trailer just before the pandemic—called for more units, eventually six of them. The Bourbon Butcher, one of the group's restaurants, had experienced wild success using a Cajun Cooker to provide pre-cooked packs of barbecued meats to its customers. A report on WCCO television showed that homebound customers were willing to endure hour-long waits to get their hands on the food.
"The drive-through really makes a big difference" to the restaurant's financial health, the owner said in the television interview.
Other high-end restaurants, without natural drive-through facilities, started to order additional units. They were all looking for ways to survive the government shutdown by providing takeout food and, later, to serving customers through outdoor seating. Cajun cookers, they figured, might offer a competitive edge.
The company was back, in a big way.
Without any plans to manufacture others, Danny designed the first cooker unit as a one-off to help Shelly launch a catering business in Moorhead. The young couple relocated from Albuquerque to Moorhead in 1998. They wanted to raise their family in a family-friendly environment and be nearer to relatives. Danny used his training in electrical engineering to launch a 15-year career in transport refrigeration; later, he worked in mobile electronics and then moved into home heating and ventilation systems for new home construction.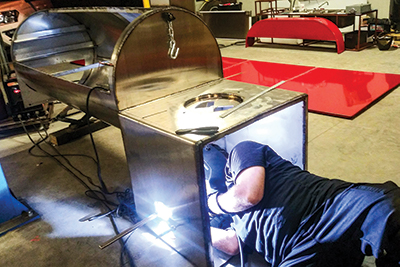 He sums up his experience like this: "I have a strong background in manipulating air, whether it be through ventilation, HVAC, building sound enclosures, or controlling sound waves."
Once in Moorhead, Shelly, a chef, wanted to start doing catering, including mobile cooking. She lamented that no equipment—anywhere—could withstand Minnesota's extreme below-zero temperatures without compromising performance. "Everything was sub-par," she says. "I'm a pitmaster chef. I wanted to do real barbecue here because nobody does."
So, Shelly asked her husband to build her a custom-made cooker. "No gas. No charcoal. I just wanted real wood."
Using his engineering background, Danny designed and built one for her. He devised a math equation that would produce a cooking space with optimal, natural convection, something that wouldn't require any moving parts to create a consistently clean burn.
Part of Danny's design was personally motivated. While he enjoyed smoked and barbecued foods, his body wouldn't tolerate it. Something in the creosote—the chemical that comes off the smoke—would make him sick. "It's the same chemical that's in your fireplace," he says. "It's pretty hazardous, and it's a big carcinogen. There is a huge number of people who have trouble eating barbecue because of it."
With his airflow software, Danny could see how big the firebox had to be, the chimney dimensions, and all the specifications to create a cooker with maximum natural convection. His creation maximized efficiency by burning all the fuel and limiting the smoke.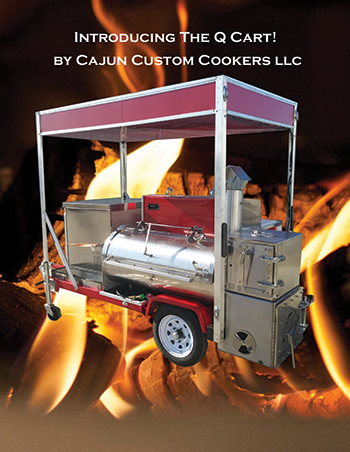 Using a CNC plasma table at his current employer, he engineered and cut the parts himself and assembled the unit in the garage that also houses the luxury vehicles used for their limousine service.
Shelly took the new portable equipment and launched a traveling smokehouse cookery that specialized in turkey legs made from a longtime family recipe. The only one of its kind in the region, the cookery quickly found popularity at local fairs, events and community celebrations.
Until their company confronted its first flu-based foes.
In 2015, the avian (bird) flu swept into Minnesota and decimated the production of Minnesota's turkey industry.
"Catering was over," Danny says. "We couldn't find any product."
Adds Shelly: "It wiped out everything."
Barely lamenting the loss, the Boudreaux quickly pivoted their focus to manufacturing their made-for-Minnesota cookers. "People had been asking to buy them," Danny says. "We were like, OK, let's turn this into something."
"We never intended on selling and building units for other people," Shelly says now.
Sales, she adds, "took off immediately."
As Danny continued to work full-time at Home Heating, the couple began marketing their cookers through word-of-mouth and Craigslist ads. "We were just messing around," Shelly says. But customer interest swelled and quickly became significant. The company rented a small manufacturing area to supplement the space it already shared with the Boudreaux's limousine company.
The growing popularity of wood-fired cooking further sparked interest in Cajun Cookers, Shelly says. "It's still going strong. People want to leave gas and go strictly to wood because it's more of an old-fashioned way of doing it."
"It produces a lot of different flavor too," Danny adds. "Which gives us the advantage—if anyone wants to do an all wood-burning menu, they have to come to us."
The COVID-related demand has set Cajun Cookers back on the track for fast growth. Now with four employees, Danny and Shelly spend their days making two cookers per week as they try to keep pace with their order book. They're using their nights to prepare a more formal strategic plan to plot the systematic growth of their company, and to upgrade the appearance and marketing utility of their website.
Space wise, Cajun Cookers is looking to buy a building in a local business park to consolidate its operation under one roof. And to streamline the efficiency of his operation, Danny now orders metal components in bulk to eliminate the often unpredictable wait-time for supplies. In addition, he is acquiring more equipment to enable staff to do more in-house machining.
"We're trying to keep up with the times," Danny says. "I'm optimistic.
…
Featured story in the Summer 2020 issue of Enterprise Minnesota magazine.