Jasmine Sonmor caught the eye of manufacturers statewide in 2018 as the then 26-year-old owner and CEO of Aura Fabricators capped three years of explosive growth by opening a new $3.8 million Fergus Falls facility that doubled her company's footprint.
Now, four years later, the metal fabricator has partnered with state and international governments on high-profile projects, like the Baudette/Rainy River International Bridge along the Canadian border and St. Paul's new Dale Street Bridge near the historic Rondo neighborhood. Aura's network of clients spans Minnesota and the surrounding four states plus Hawaii, typically including state DOTs such as MnDOT.
This year could be one of the company's biggest.
Growing pains
Sonmor learned metal fabrication from an early age, starting with getting her hands dirty at her father's company White Oak Metals. After receiving a degree in engineering in 2015, she founded Aura Fabricators, absorbing the staff, equipment, and workload of her father's company, as he struggled with his health. Perhaps surprisingly, however, she says it was never about following in his footsteps.
"It was more that my father's footsteps happened to be an accumulation of everything that I enjoy and find fulfillment in," she says. "I tried not to follow in his footsteps. I looked at other industries, but all my interests brought me back to the steel industry."
Within three months of the acquisition, business volume doubled. The Dalton facility was pushed beyond capacity as Aura salvaged a series of contracts from a collapsing Wisconsin-based competitor. Sonmor tinkered with scheduling, adding night shifts and anything she could to absorb the growth, but a second location was unavoidable. She moved to Fergus Falls, 10 miles west, to expand the company's hiring pool; the new building and youthful owner attracted young and optimistic workers.
"We were really big and shiny right away," Sonmor says, but eventually the excitement wore off. The same younger workers who insulated her company from a rampant workforce shortage later played their own part in the pandemic's "Great Resignation." To make matters worse, in 2022, the pandemic downturn finally reached Aura Fabricators. Government projects were thin on the ground, and Sonmor knew her teams would need to brace for a leaner year.
"While most industries felt [the impact of the pandemic] right during COVID, I was the opposite," she says. "It was very delayed."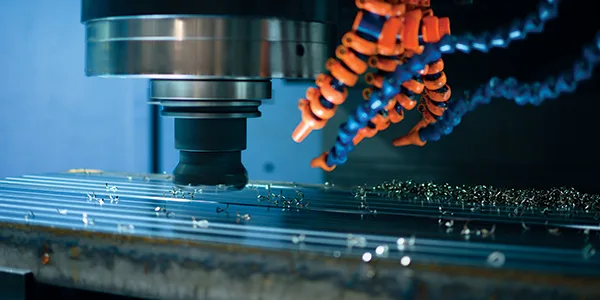 Stronger than ever
The steel industry suits Jasmine Sonmor's interests: mathematics, art, and work that produces tangible results. Her business began to support her livelihood, but even in the beginning, there was a sense that her pursuits could help support others — that she could have an impact.
During those first months, young Sonmor faced pushback from those who doubted her ability. Today, she says the difficult conversations and endless reassurances to clients taught her a great deal about working in partnership. It also taught her perseverance.
When hardships hit last year, Sonmor buckled down and waited it out. Now, she says the tide is changing. Government contracts are flowing once more, and she anticipates the first year in her firm's history where she can plan ahead rather than operate on a reactionary basis.
"We're finally poised to handle some growth," she says, and she's eager to move forward. "I know how much we're capable of, how talented my team is."
She's also used the last several years to build her connections outside the steel industry to become a regional leader and role model. She's involved in a STEM-based advisory committee for the local schools, at times donating steel and materials to a school's programs. She sits on the board of directors for the local hospital foundation. And she's a member of Greater Fergus Falls, an economic development entity.
NeTia Bauman, CEO of Greater Fergus Falls, calls Sonmor integral to the area's development work. "To have a local entrepreneur like Jasmine willing to share her successes and failures — to be risk-tolerant, adaptable, and persistent — is key to our success," Bauman says. "By sharing her journey with others, she alleviates fear and cultivates motivation in prospective entrepreneurs."
Having an impact
Why invest time and money into the success of other people and other (even competing) businesses?
"I don't look at it as a 'me vs. you' situation; it's truly a community," Sonmor says. "I think every business should support every other business. The more businesses are thriving within our community, it's just going to generate more revenue" through new jobs, development and expansion projects, tax dollars, and even tourism.
On a personal level, she tries to serve as a role model and to encourage big dreams. She's inspired, she says, by conversations with students about careers in manufacturing and the skilled trades, especially young girls interested in welding or programming or who hope to someday run their own companies. "I want to make an impact on the people around me," Sonmor says. "I want to make an impact on the community, and I want to make an impact on my family. I want my kids to grow up seeing a hard-working mom who isn't afraid of a challenge."