Hennepin Technical College (Hennepin Tech) was founded in 1972 when 13 public school districts formed an independent post-secondary school. Named Suburban Hennepin County Area Vocational Technical Centers-District 287, it was the first suburban college in Minnesota.
During the past five decades, Hennepin Tech has been innovative in adapting its academic programs and services as the needs of students and Minnesota's workforce have changed. Today the college is nationally recognized for providing an affordable, high-quality education for students entering the skilled trades and high-demand careers.
Joy Bodin is the president of Hennepin Tech.
She most recently served as vice president of academic and student affairs at Central Lakes College in Brainerd and Staples. She had been serving in this capacity since 2017. Her responsibilities include providing leadership in academic affairs, student affairs, information technology, and institutional effectiveness. Her accomplishments include leading efforts to develop new technical programs and transfer pathways, leading initiatives around student success to break down barriers for all students, and promoting a culture of caring by building relationships throughout campus.
Joy previously served Hennepin Tech from 1992 to 2017 in other capacities, including director of marketing and admissions, dean of industry, interim dean of students, and most recently, academic dean.
She holds a bachelor's degree from Metropolitan State University and a master's degree from Capella University.
Alison Leintz has served as an academic dean for Hennepin Tech since 2017. Her responsibilities include providing leadership to 19 technical programs in the manufacturing, building/construction, and transportation industries. She supports faculty in the development of rich learning experiences that motivate students to persist and enter the workforce with the skills, knowledge, confidence, and credentials needed for a successful and rewarding career.
Hennepin Tech welcomed Alison in 2000, and she has since served the college in both academic and student affairs. She recently led the college in writing a successful accreditation assurance argument with the Higher Learning Commission. Her work in student affairs focused on student admissions and outreach, with specialization in PSEO, dual enrollment, and international students.
Alison holds a master's degree in organizational leadership from Bethel University and a bachelor's degree in community and human services from Empire State College.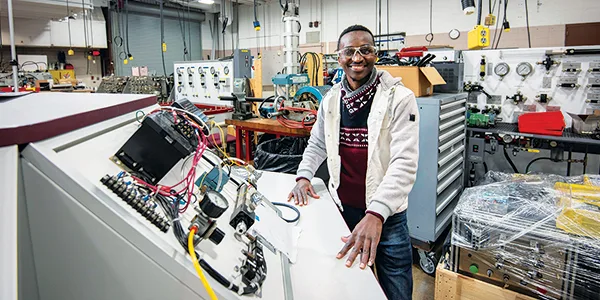 What attracted you to a career in career and technical education?
Joy: I myself struggled through high school. While I was in college, I got a job at Hennepin Technical College. And when I walked around the labs and saw people learning by doing, I thought this was where I was supposed to go to college. It was so awesome. It made me fall in love with Hennepin Tech.
Did that experience enable you to relate better to your students?
Joy: Many of our students don't believe they can succeed in school. Whether at a different college or high school, they didn't have a great experience. While they're here, they realize that the learning style is different. They really connect to what we're doing, resulting in securing great jobs.
Alison: Right out of high school I initially went to college for social work. I worked in that industry for a short time and realized it wasn't going to give me a decent wage and health insurance benefits — I either got one or the other. I then came to Hennepin Tech and worked with students who had jobs in their industries and were making more money than me even before they graduated from Hennepin Tech. It was exciting to see that world of opportunities. At this college I found a powerful way to help people better their lives, which is why I first pursued social work. Like Joy, I'm excited to watch students who were told they weren't college material succeed.
How did the pandemic affect your ability to deliver education?
Alison: We struggled for a little while because we couldn't have people on campus. How do you teach machining without being in front of a machine? But our faculty really stepped up, finding creative ways to convert materials for remote delivery. They used simulation software to help students visualize concepts. We were also blessed that all of our program areas were considered essential jobs, and we could reopen after only a couple of months.
But when we were able to have people back on campus, we still had to shift and restructure for social distancing and mask wearing. Having a student wear a fabric or paper mask when they're welding is a danger. I give our faculty credit for doing everything they could to meet industry needs as well as the learning needs of our students. They found creative ways to help students still get some hands-on concepts. We had faculty members with GoPro cameras on their heads demonstrating concepts on the machine for our online learning platform. We made things as seamless as we could for students. As hard as it was, we still delivered a high-quality education. And our students continued to want to come to campus, although some people couldn't come back for health reasons.
How did the students react to this disruption?
Joy: Our students form close connections with the classmates they see on campus every day. They were used to working in teams, and it became harder when they couldn't converse in person with other members of their team. I think they missed the hands-on experience. Simulation is great, but it takes away from getting your hands dirty, taking things apart, and putting them back together.
Did employers come in and cannibalize some of your students who were not in class?
Alison: 100%. Many industries flourished even when the rest of the world shut down. The demand for people went up. As a college, we are still trying to recover from that.
Joy: Some students are choosing to go to work instead of going to college. We know that they can invest in their futures by doing both. We have day programs, night programs, and late afternoon programs so students can work and go to college at the same time. The education will give them an opportunity to get promoted or find a new job. They don't have to come back later to get the skills they need.
Alison: Industry scoops our students, giving them high wages and overtime before they complete their education. So, it becomes the job versus the career. The good job today often outweighs their long-term career goals and the opportunities they could find if they complete their education. It's hard for students to envision the benefit of investing time and money into their education when they have this high-paying job. We've worked with industry partners to ensure they're conveying that message. Many of our industry partners will reimburse tuition and have flex hours so that students can both work and complete their education.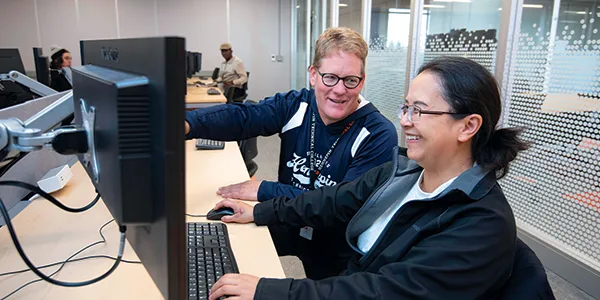 Do higher-paying jobs in industry tempt members of your faculty?
Joy: Many of our tech faculty take a pay cut to come here. They come here because they are passionate about teaching the next generation of students. Many still work in the field during the summer or at night. Some of our postings are up for a long time before we get a pool of applicants. The good news is that many of our graduates come back to teach after gaining industry experience. That's one way that we attract instructors.
When recruiting students, is it still a challenge to get past the student counselors who preach that the only path to success in life is through a four-year education?
Alison: It was a problem early in our careers and continues to be a problem now. Counselors have the best intentions, they're very busy, and they tend to speak to the world they knew, directing people to a four-year college. We've worked to bring these important influencers to our campus to view the programs we teach and to do hands-on activities in those programs to get a feel for what students would be learning. The problem hasn't gone away, but they seem open to learning about it. It just takes time.
Joy: It's interesting when a high school student shows off what they're working on in a technical program class. What we produce in our classrooms and labs is our best sales tool.
Plus, the economics must be compelling. Tech schools cost less, and their graduates will immediately make more money than other graduates, right?
Joy: People are very aware of the cost of an education, and that technical colleges are a really good value. Parents still want their children to have as many opportunities as they can, so we help them understand that a technical education can lead to a bachelor's degree if that is what they choose. We're also building partnerships with high schools that see the value of building more industry or tech classes. We're also very thankful that our business and industry partners donate equipment. We work hard to obtain grants or alternative ways to fund new programs, get new equipment, and increase professional development opportunities for our faculty.
Do you reach out to the industry, or do they typically come to you?
Alison: We have an advisory board for every college program, which allows us to hear from industry partners. Most of our industry donations come from the manufacturing sector. There have been many instances where industry partners have been very generous. Our automation robotics engineering program has received different types of robotic equipment so that a real-world industry environment can be replicated in our lab facilities. Several partners have donated robotic welders to help us expand our curriculum into those areas. They've been very generous, allowing us to expand our training in many different areas.
And it doesn't hurt their recruiting when a piece of donated equipment has their company logo on it. It allows them to do some self-advertising at the same time, and they get a tax benefit for the donation. They also know that our system has this leveraged equipment program in place for which we get a dollar-for-dollar funding match from our system office. If we bring in an in-kind donation of $500,000, we will receive a matching $500,000 from the Minnesota State Colleges and Universities system to spend on equipment the following year. It's a big incentive for manufacturers because they know their donation will help at that moment and will duplicate and grow in the future.
We can also set up customized training for companies that need employees to be trained on a piece of equipment we have on our site. If they've got a niche need, we can go to them and deliver exactly what they're looking for.
Do you envision a time when financial constraints will mean that various Minnesota State campuses will have to specialize? Students will go to one campus for mechatronics and another for cybersecurity?
Joy: There are two answers to that. When community and technical colleges were first built, the system wanted to ensure a campus within a 50-mile radius of every student. They didn't want students to have to travel. But since then, campuses have started to specialize. Central Lakes, for example, has a heavy equipment program and here we have plastics engineering, just to name a couple. Other schools offer other things. When students are interested in those specialized programs, they will be willing to travel. Our student surveys show that students look for the program first and then at how close it is to home.
Alison: There are niche specializations, but I think about us as an urban college. Many of our students need transportation. I do think working as a system is important to ensure some of the niche market workforce needs are met. We have to work together to determine where it makes sense to offer them. It's a work in progress that will be interesting to watch.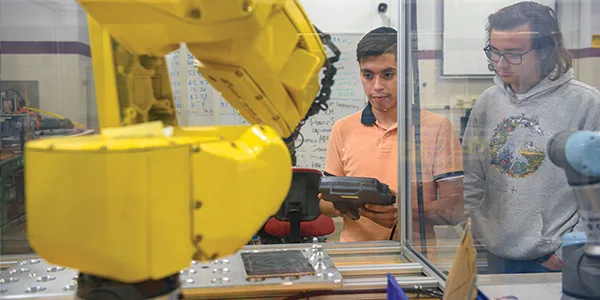 And given all that, what do you think Hennepin Tech is going to look like in 10 years? Is it possible to predict how your campus, curriculum, and students might change?
Joy: A technical school will always change. Industries are changing; equipment is changing. There are always emerging technologies and new programs. The labs will always look different. There will be a lot more advanced training out in business and industry. Right now, we have a non-credit program in which we'll go to a business and train current employees right at their location to meet their current needs. That will continue to grow, especially in our manufacturing areas.
Alison: One thing we can bank on is that automation will continue to increase in every area of manufacturing. We've got to stay on top of how that looks. We'll continue to see automation, robots, and cobots integrated across manufacturing.
How does Hennepin Tech differentiate itself from other tech schools in smaller towns? Does that change your mission and your ability to adapt to a different marketplace?
Joy: I don't think it changes our mission. We are proud that we are the largest stand-alone technical college in the system. I'm excited that our diversity on campus continues to grow. As we see new students, word of mouth gets around that any job in a high-wage, high-impact industry is really going to support their families.
Alison: Being in an urban environment definitely means our student body looks different from many other institutions and has needs that are different from many other institutions. We have greater diversity as far as race and ethnicity are concerned, and we work hard to look at our college practices and policies with an equity lens. We have support systems for people pursuing careers that are considered non-traditional by gender. For example, we try to ensure that women in manufacturing get the support they need. Our average student age is 27 right now, which is much older than most institutions.
Is it getting older?
Alison: It has actually come down. At one point, we were as old as 32. We had less focus on high school recruitment. We've tried to hone in on providing college in the schools, which helps students get college course completion done while they're still in high school. This gives them exposure and pathways into the college. We're unique in some of the ways that we talk with our faculty about culturally-relevant pedagogy and provide things like crisis grants for students who run into issues. We have a large student body who are food insecure or who struggle with homelessness. We have about 9,000 students, so we see some of those things on a larger scale compared to other institutions. Having free food distributions and basic needs available on campus are important to us. We provide safety nets for students who run into problems balancing life and school. We make sure that we have support networks across the college to help them stay on track and continue to move forward. If they need to pause and focus on life, we have the supports in place to help them pick up where they left off when they're ready. That's something all colleges have a focus on, but because of our setting and our population, it's probably a bigger focus for us than others.