Denny Dotson got the call late on a Friday night in September 2017. It was the kind of call no business owner ever wants to get.
His foundry was on fire.
Dotson hopped into his car and raced toward the plant. He wasn't sure what he'd see when he got there, but he wondered as he drove down a dark, southern Minnesota road whether the business he'd worked a lifetime to grow, a business that had given his family everything and meant so much to so many dedicated employees, would still be standing.
Then, another call came.
"The fire chief said they're pulling all their people back," Dotson recalls, "and that we're going to lose the entire building."
The entire building.
He drove on, not knowing if the company would even be there when he arrived.
Company President Jean Bye received the news while attending an industry event in West Virginia. "They said, 'There was a little fire,'" Bye recalls. "Then they called again, 'Well, it's too strong, they're going to pull out.' And again, 'Well, they got it back under control.' This went on every 20 minutes."
On the first flight back to Minnesota, Bye began to plot a rescue strategy.
When Denny Dotson arrived at the foundry, he saw dozens of firefighters from three different departments were able to save most of the foundry. The damage was extensive—to the tune of roughly $5 million—but no one was hurt.
The time required to make repairs would mean that some workers wouldn't be able to do the work for which they were hired, despite the company's best efforts to keep production moving. Instead of laying people off, Dotson decided to pay its workers to volunteer at community nonprofits, all while earning their full hourly wages.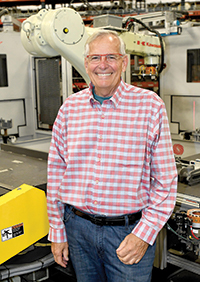 Some workers volunteered at a charity-based thrift store. Others helped caulk and seal cement at a North Mankato hockey rink. Still others spent a few weeks helping a nonprofit in Mankato that caters to the elderly.
The foundry was up and running at full capacity in a matter of weeks. And not one employee lost a penny.
This story illustrates several reasons why Dotson Iron Castings is a leader in the industry, and why it's no surprise the company has been on the forefront of adopting and embracing lean manufacturing techniques to make its operation as efficient—and as profitable—as possible. Dotson is on the smaller side as foundries go, but its size enables the company to be nimble, respond quickly to change, and attract industry partners and prospective employees.
Next Level Lean
From the outside, Dotson Iron Castings looks like a gray behemoth. Nestled a football field away from the Minnesota River, you'd expect to enter the premises and find a dirty operation run by burly men with smudged faces, black boots and thick gloves.
But Dotson Iron Castings defies those expectations.
From the minute you walk in, you notice how clean it is. And new. And polished. The entryway greets visitors with a subtle message: Forget everything you thought you knew about foundries. This is the foundry of the future.
And Denny Dotson greets visitors with a bright smile and a firm handshake.
"You passed our IQ test!" he says, referring to the touch-screen security system all visitors must navigate for entry.
He leads visitors into the office of Vice President Eric Nelson, who is monitoring a software program that shows a 3D model of the furnace that is the heart of the foundry. Every tailor-made iron casting produced in this plant is born in this fiery furnace. Having it safely run at peak efficiency is everything for Dotson Iron Castings.
Nelson points to the screen. The image shows a cross-section of the furnace and all its parts including, importantly, the cooling aspects.
"So on this one, we're looking at the furnace, actually a cut-out of the furnace. And I want to know about the Faraday ring—that top cooling ring—and where the temperature has been. We're melting iron at three and a half megawatts. And over here we're running 100-degree water. We need to be below roughly 220 degrees on the surface. So, we're asking an awful lot in a relatively small area."
The furnace is equipped with post-production sensors that give real-time data about every inch of its operation. By adding smart technology to a complicated and important piece of equipment, the furnace goes from simply achieving lean to, as Nelson calls it, "the next level" of lean.
"The other piece that Industry 4.0 is heading toward is getting the right sensors, then the connectivity for those sensors, and finally having the right amount of speed to collect that data," Nelson says. "The initial wave of lean talks about, 'Everything's working properly, and we want to move things through fast and efficiently.' The second stage is, 'What are all of the interruptions that prevent a system or a piece of equipment from operating efficiently?' That's part of the system. If that piece goes down, then the product doesn't flow through. There are a thousand pieces that could shut down our plant today. So, if any one of those thousand pieces go out, our plant stops making product. We could go out for 10 minutes, or we could go out for 10 weeks."
Which is why knowing exactly what's happening on key equipment is critical to the company's success.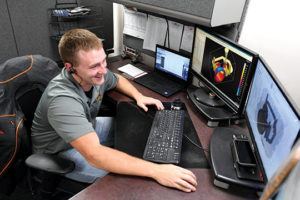 As electronics have improved, Dotson has added more and more sensors, Nelson says. "And what's catching up now is the data behind that, to be able to grab that information and do something with it, and find where the problems really are."
For example, let's say a production line is supposed to be running at 100 units per hour. But for some reason it's running at 90 units per hour. Of those 90, 90 percent of the units produced are flawless. This gives the line an efficiency rating of 81 percent. Nelson says taking that deep dive, examining equipment on a "next level" lean approach, is the most cost-effective way to improve efficiency and, hence, profitability. The people have already been hired, the equipment has already been paid for. Now it's time to harvest every bit of efficiency possible from a trained workforce to data-driven equipment.
"Ten years ago, very few people were looking at this second phase of lean," Nelson says. "The second stage of lean, in our opinion, would be: How do you keep everything working so you have the overall effectiveness of the whole plant?"
Get em' keep em'
Dotson, like virtually every other manufacturer in Minnesota, is having to contend with the skills gap.
In Enterprise Minnesota's 2019 State of Manufacturing® survey, business owners were asked, among many other things, "What would you say are one or two biggest challenges your company is facing that might negatively impact future growth?"
The number one response was attracting and retaining a qualified workforce.
Dotson responds to the workforce challenge by encouraging employees to feel a sense of ownership for what happens at the company, like they're part of a team or, perhaps, a family.
When the fire hit the foundry, for example, Dotson could have understandably told workers, "Sorry, folks, but until we're back up and running, there's just nothing for you to do here. We'll call you when production starts back up."
Instead, the company continued to pay its employees. But it didn't just pay them—it also gave them purpose and put them in positions to 1) feel good about staying busy and productive, and 2) be proud they work for a company that cared enough about them to prepare such an altruistic program.
For similar reasons, Dotson includes its workers in every aspect of facility improvement, especially equipment purchases. And not just to "ask for input." At Dotson, showing workers that they're a vital link in the process can sometimes require passports. When the company is considering purchasing, for example, a new robotic system, it will send employees who would work on that equipment to the source to see it in action. If that means Japan, that's where the workers go. And if this sounds like an excuse to send people on a vacation, well … it is and it isn't. Having employees test drive a new machine conveys valuable information to Dotson's leadership, but it's also an investment made in retaining employees. An employee goes to Japan to check out a forklift and can also relax and see some sights. That employee then comes back with actual knowledge and a better appreciation for a company that values its employees enough to send them overseas.
The same principle holds for on-site maintenance. When equipment needs repair, the employee who uses that piece of equipment assists the maintenance technician, giving that employee a new appreciation for the technician's work and a deeper understanding of the inner workings of the machine he or she works on all day.
Dotson has even transformed the very idea of what it means to work in a foundry. Instead of the smudge-faced, big-gloved job you might imagine, Dotson employees spend much of their work day at a PC, cutting out much of the danger and producing, in the end, a more consistent product.
"We are the only non-automotive foundry that has automatic pouring of metal," Denny Dotson says. "The worker is no longer standing over hot metal and working very physically hard on it."
This brings a benefit that goes beyond the employee, he explains. "There's also a benefit to shrinking variation on the process. If an employee is working physically hard in a hot environment, it's unlikely he or she will be as concerned with proper pouring techniques. By putting in automatic equipment to handle that, we take out a lot of the process variations.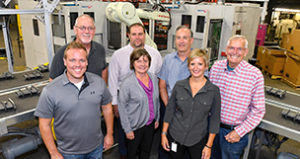 "Twenty years ago, we used to have people loading wheelbarrows with metal that was then loaded into our furnaces. Today, there are no people involved in that process. It is all done by computer-controlled weights, scales and magnets. The operator punches a recipe and says, 'I want recipe number six.' Everything is done automatically. We took a hard, physical job and eliminated it, and we improved the process quality because the variation is much, much less."
Many of Dotson's workers are cross-trained. The company, in an effort to foster a flexible pool of workers that can be plugged into any task, encourages workers to become trained in areas other than their own. And if they like it, there's a chance they can be moved to a different area of the plant. This comes into play on days when workflow dictates how much each set of workers has to do.
"If we have a skilled person in our finishing department who might not have work to do on a Friday afternoon, but we have plenty of work to be done in our tooling area, we might move that person over to that area," Dotson Vice President Liz Ulman says. "So, we're trying to keep them more flexible with utilizing their skill sets. Sometimes, they then might look at that and go, 'Oh, I kind of like this job.' And then we might try to develop them for that position or offer them education or tuition reimbursement to go back to school and move into that department."
Dotson Iron Castings also rises above its peers in wages. According to the Bureau of Labor Statistics, average manufacturing wages range between $14 and $18 per hour. Dotson employees start at more than $22 per hour.
"Our employees can make $22.10 an hour right out of high school," Ulman says. And with the company's tuition reimbursement program, new workers can work and go to school. She cites a recent high school graduate who wanted to get a machining degree from South Central College. It was June and school didn't begin until September. "So, we hired him as a production employee. He's working full time, getting paid $22.10 per hour, and we're paying for him to get a machining degree."
Dotson's tuition-assistance program makes sense on several levels. Paying employees to better themselves results in better-educated, more efficient and highly skilled workers. But what if that worker's urge for education takes him or her away from something directly tied or related to the job performed at the plant?
That's okay with Dotson, too.
"We'll reimburse 50 percent on anything they want to do. Even, say, learning to fly an airplane," Denny Dotson says. "If someone's excited about learning to fly a plane while working here, they share that excitement in the workplace environment. And that's good."
Dotson/Bye Combo
Dotson Iron Castings goes back a long way, back before its current CEO was born. The company was founded in 1871 in Mankato by a German immigrant and blacksmith named Laurence Mayer. Company lore has it that the original foundry sat just 300 feet away from the current location. The original company had developed a reputation for innovations that made foundries safer and more efficient. In addition to producing iron, the Mayer-led foundry launched other ventures as well, including an automobile powered by the world's first V8 engine. The company's name was changed to Little Giant in the 1920s when it started producing plumbing parts and potato pickers. Little Giant persisted through the Great Depression until the 1940s when it finally was sold out of bankruptcy. But later on, the company flourished due to the demands of World War II. In the late 1940s, the first Dotson—Jerry—entered its realm. The company grew during the '50s and '60s, and Jerry took over. He changed the name to The Dotson Company and oversaw its continued growth.
Denny, after working at the company as a teen, attended the University of Notre Dame and did a stint in the U.S. Navy before returning to work for his father Jerry in 1972. Around the same time, another new worker arrived: Jean Bye, the company's current president. The two would become lifelong friends and steer the company where it is today, but not without some economy-driven ups and downs.
The 1980s were dark times for manufacturing plants. Many suffered catastrophic losses. Others simply gave up. But not Dotson. Profits were down 80 percent at one point. The company's workforce went from 425 to 87 in just a six-month stretch.
To save their sinking ship, Dotson and Bye asked employees to accept a temporary 40 percent pay cut. They vowed to repay the lost wages with interest. Their move worked, and what was left of the workforce was there for a big turnaround. And they each received their backpay. (Another event that helped was the creation of President Reagan's Manufacturing Extension Partnership, aimed at helping small manufacturers through tough times. Dotson told the Washington Post a few years ago that, without the MEP, the foundry would likely have folded. That program, Dotson says, is in danger of being cut by President Donald Trump.)
Like Dotson, Bye came to Dotson Iron Castings as a teenager, working summers at the foundry before heading off to earn a business degree at Concordia College. Degree in hand, she stuck with Dotson Iron Castings, working her way up from the human resources department to vice president of administration. She was named president in 2010.
Bye's status as a leader in the industry is a solid one. She's been a board member of the Ductile Iron Society and the Mankato Area YMCA, is the past president of the American Foundry Society, and a board member of the Minnesota Safety Council.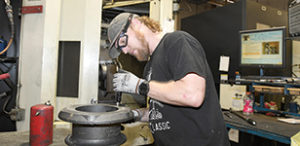 Just this year, Bye was given the Women in Manufacturing STEP (Science, Technology, Engineering and Production) Ahead Award, which is bestowed upon women who have "demonstrated excellence and leadership in their careers and represent all levels of the manufacturing industry, from the factory-floor to the C-suite."
"Jean Bye has provided exemplary leadership as both the President/CEO of Dotson Iron Castings and as 2018-2019 President of the American Foundry Society (AFS)," Doug Kurkul, CEO of the American Foundry Society, said in a press release about the award. "She has also served as an inspirational role model for hundreds of women in the metalcasting industry throughout North America."
Denny Dotson's bona fides are just as impressive. He served on the board of the Mankato Area Foundation, was chairman of People Driven Performance, chair of the National Institute of Science and Technology's Manufacturing Extension Partnership advisory board, U.S. representative to the World Foundry Organization, past president of the American Foundry Society and past trustee of the Minnesota State Colleges and Universities system.
When speaking of the fire, Denny Dotson doesn't hesitate when asked how they were able to come through that challenge relatively unscathed.
"We recovered from the fire spectacularly," Dotson says, gesturing toward Bye. "But it was because we had an incredible organization and a team that played well together. And it really was Jean's leadership in that process that made all the difference."
"It was really the whole team," Bye replies.
"I'm sorry," Denny says, looking at Vice President Liz Ulman. "Whose leadership was key in this situation?" Ulman points to Bye.
"We made a decision very early on, within hours on the first day, that employees would be back at work. The fire was on a Friday, we wanted employees back at work on Monday. And then we spent a great deal of time to find work for them. We had people focused on all the different areas, and then Jean solved the 'in-between' problems."
Ulman says that, after the fire, when all the damage was repaired and all the workers were back at work in the foundry and Dotson Iron Castings was running at peak production again, she spoke to a recruiter who'd asked about the company culture.
"I told him, 'You know, I can give you all the information you need, or you can read our website. You can read our fancy brochures that say this is who we are and this is what we do,'" Ulman says. "But in the unfortunate circumstance of the fire, everything that we say about who we are and what we do and how we want to treat people—whether that's our customers, our employees, our vendors, or the community—goes beyond just talking the talk. We walked it, and it showed tenfold. We had an abundance of applicants who came to us and said, 'We heard what you did with your employees; we want to work for a company like that.'"
…
Featured story in the Fall 2019 issue of Enterprise Minnesota magazine.