While Minnesota's manufacturers share broad long-term confidence about the future prospects of their companies, a unique version of the State of Manufacturing® (SOM) survey reveals that they are strapping in for a tumultuous COVID-19-related economic ride.
Read the 2020 State of Manufacturing® slide deck. 
The SOM is an annual survey of Minnesota's manufacturing executives conducted for Enterprise Minnesota by pollster Rob Autry, founder of Meeting Street Insights, a public opinion research firm. Enterprise Minnesota is a Minneapolis-based consulting organization that offers business growth services to small and medium-sized manufacturing companies.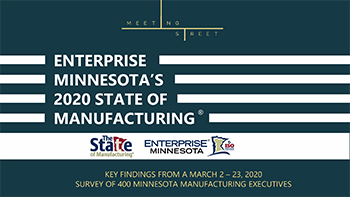 What is unique about this survey is that interviews were conducted before and after President Trump's National Emergency Declaration (COVID-19) on March 13th.
Autry's team interviewed 400 manufacturing executives between March 2-23. Respondent titles included owners, CEOs, CFOs, COOs, presidents, vice presidents, and managing officers. The survey has a margin of error of +4.9%. Researchers completed 58% (N=234) of the interviews between March 2-12 and 42% (N=166) between March 13-23.
Among the results:
46 percent of post-COVID interviewees now expect the country to slip into a recession, while only nine percent thought so in the pre-COVID interviews.
Post-COVID interviewees also expect to experience a decline in gross revenue (23 percent, in contrast to just 6 percent pre-COVID) and profitability (19 percent post, 8 percent pre-COVID).
26 percent now expect to invest less in capital expenditures, as opposed to 14 percent pre-COVID.
Smaller manufacturers expect to take the biggest hit, according to the survey.
Autry typically reveals the results at a public event that has been attended by as many 500 people. This year, due to COVID-19 restrictions, the survey was released as a web conference on April 20, 2020.
For more information and to see the complete listing of State of Manufacturing events, click here.